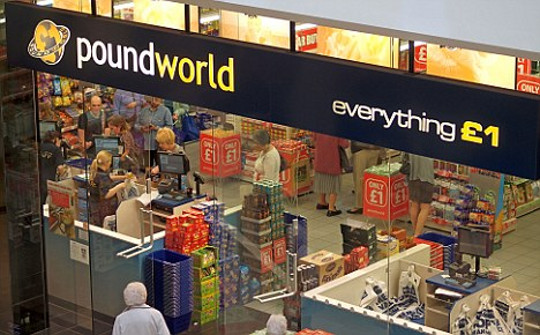 It's the spooky time of year again, and if you're planning a Halloween party and you want to go all out on décor but not on costs, Poundworld may just have the answer to your needs.
There are products for everything you need for your party theme and your wardrobe.
Starting with what to wear, there's so much to choose from. We were sent a range to test and here are our thoughts.

The Halloween Make Up Cream comes in Halloween-ey colours like black and green and also a fab glow-in-the-dark paint too. They are liquidy and easy to spread and apply and have a deceptively lovely scent. Like most make-up it washes off with a bit of soap and water, but they do also recommend that you do a spot test 30-60 minutes before applying it to your face.   The glow in the dark will be fab if you're in that kind of environment too.
The Hairspray is a fab touch for your Halloween look, and is a great price for the product. I'll be honest though - upon application it smells a bit like a subway tunnel without CCTV (read: like a urinal) with an after-smell of mint. It's not great. I have light brown hair, so the gold didn't really stand out in my hair too much, but the black was great. It washed out without too much fuss too.
For fake eyelashes were easy to apply, although the glue made my eyes water a little.
For fancy dress there were some lovely children's goodies. My favourite were the witch hat head bands. They're alice bands with a small little decorated and glittery witches hat. They are puffy and really cute.  A child's four piece Ninja Outfit and the Devil Outfit are both fit for purpose. They're not the best costumes ever, but they'll last the night and they cost a pound. You can't really expect to much more.
There were also a pair of holographic glasses. You see out of them, but when anyone looks at your eyes, they look a bit creepy and weird. I think after enough wear  you could end up with a headache with these, and I don't suppose they're overly good for your eyes, so I'd say wear it for a costume, the put it away for next year if you want, but don't leave it out. With something right in front of the eyes, I don't think these are great for your eyesight. Perfect finish to a skeleton outfit, I reckon!

Unfortunately the same can not be said for the masks. These are the hooded type, with rubber masks on the front. These were awful. In one of the masks I could literally not breathe. It didn't fit properly and you're not going to be able to eat or drink anything wearing one of these. It simply didn't fit and I think I have a relatively standard sized face!  Also, the fumes from it are somewhat overwhelming and despite not being able to breathe, it also made my eyes water and my skin itch. I'm not a fan of these at all.
Poundland also have you covered for room décor.
If you want something grim, you can buy a set of two hands of severed fingers. Great for popping on the edges of snack bowls or next to closed windows and so on. They don't look 'real' as such, but they definitely convey the message.
For something a little more child friendly, you can look at a set of six 'spooky window decorations'. These stick to the windows and in daytime should cast a nice colourful shadow. They are yuk without being gross, and have pumpkins, tombstones, and witches as well as an electric looking skull. Definitely good décor without being scary.
Adding to the décor but also practical are packs of six skeleton straws in black or orange with skeletons skewered through them. The skeletons have moving arms and legs and are pretty cool. Definitely a talking point.
If you want to take it up a notch, you can offer your drinks in a Halloween goblet. With the stem looking like human hand bones clutching the glass, and skulls adorning the bottom, they are creepy – and a little too sacrificial grim for me! Raise that to your lips and who knows what you're imbibing!
I quite like the disposable plates, cups and bowls though. They are orange and brown and have a haunted house – slash – graveyard design. They're quite pretty in an Adams Family kind of way. We also liked the cauldron - it'll be perfect for keeping sweets in for trick or treaters!

Similarly themed are a set of 12 cocktail sticks which come in a little orange shooter-glass style cup. The only problem with these is that they are quite thick, with rounded bottoms, so they're not for 'fine dining' and might be a bit hard to get your snacks on.
The Good
It's dead cheap and you can have an awesome themed party with all the trimmings
Most of the goodies you can keep for next year and the year after and probably the year after too
The Bad
What you don't end up reusing will probably just become landfill. Cheap and everlasting landfill.
You have to go into a store, since you can't find buy online.
The Verdict
If Halloween's your thing, you'll love it. If you're not into witches and cauldron's and scary things, you probably stopped reading a long time ago. Overall though, for most of it, it's good value for money, especially the things that you can use year on year.