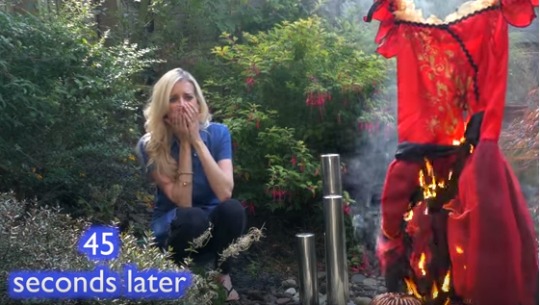 Did you think that regulations had changed to make Halloween costumes safer? I did, and I was wrong.
We are all far more aware of the fire risks involved in Halloween due to the awful experience last year when TV presenter Claudia Winkleman's daughter was severely burned after her costume caught light on a naked flame. Dressing-up costumes do not have to adhere to the strict flammability rules that clothing does as they are classified as 'toys', so the materials used can be highly flammable, much more so that those used in any other clothing.
Since the campaign for increased safety was launched last Halloween many major retailers have said that their costumes have undergone extra fire safety testing, and the government and trading standards are reviewing the current regulations at present.
But where does that leave us with this year's Halloween costumes?
Channel Mum decided to run an independent fire test using costumes from this year's ranges in stores, and the video of that test can be seen over on our Facebook page.  The results are not pleasant to watch for any parent as you can't help but be horrified when every costume catches light within seconds. Disturbingly, within just 45 seconds, over half the outfits tested had burned a third of the way up or higher.
Channel Mum founder Siobhan Freegard said:
Some stores promised they've tightened up Halloween outfit safety, but our video shows the flames ripping through children's costumes in seconds. Clearly much more needs to be done to help families stay safe. Every parent knows Halloween is the 'perfect storm' for children's safety. Kids are dressed up, very over excited, munching on trick or treat sweets and in large groups which all means accidents can - and will - happen. We need stringent safety regulations and far clearer labelling so parents know if there could be a potential problem with an outfit. Let's hope no more children are injured this Halloween before tougher action is taken.
So with no current legal requirement to improve fire safety with Halloween costumes we are reliant upon the stores doing their own extra tests and using different materials to make these outfits less likely to catch alight quickly.
Does this mean that you should not let your children dress up for Halloween? Well that's not the conclusions that the Channel Mum parent testers came to, but it will make most of us think twice about safety measures that we can take.
The main thing most of us can do is to keep open flames out of reach of children, or preferably just don't use them at all this Halloween.
It doesn't mean that pumpkin carving is out of the question - you can just swap tealights for small LED candles* which can be bought very cheaply in high street bargain shops. I used LED lights in my pumpkins last year, but it was because I thought the rain would put out the candles rather than thoughts about safety if I am truly honest. This year there will be no real candles in our pumpkins.
If increased awareness means that people will take extra care this Halloween with open flames then hopefully that will reduce the number of unfortunate accidents. We hope the government and trading standards introduce the extra safety regulations that parents are calling for.
(image Channel Mum)