ALDI Spooky Halloween Treats Review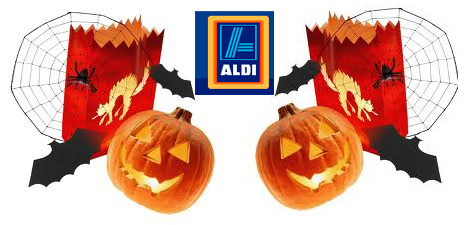 The lovely folks over at ALDI sent us a big box full of spooky Halloween chocolate goodies to review.
But with just five and a bit weeks left until the PlayPennies Christmas party, and little black dresses to fit into, we're all busy trying NOT to eat chocolate!
So with relief, and heavy hearts because everything looked scrummy, we sent the box of ALDI Halloween treats on to our reviewer Sam for her and her family to enjoy - what a tough job they all had *grin*
Halloween is becoming increasingly popular every year and with more and more kids ghost and ghouls, witches and warlocks knocking on your door it can be an expensive business.
You need to send your own kids out to collect Halloween cash just to cover your chocolate overheads!
"We carve a pumpkin, light the candle inside and set it outside the front door every year to let the kids know we are open for Halloween business," explains Sam, "before long there is a steady steady stream of Halloweeners knocking on the door."
We sent Sam the following selection of Halloween goodies from ALDI: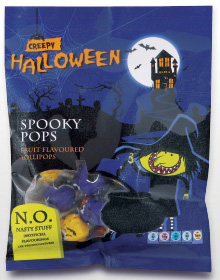 "There was such a lot in the box when we opened it, it almost felt like Christmas instead of Halloween," enthused Sam. "I was utterly gobsmacked to discover that it all came to less than £6!"
When we saw all the ALDI Halloween goodies in the box, we thought the same too.
We were also rather pleased to note that the label notices declaring there was nothing 'nasty' in any of the items - no artificial colours, flavours or other horror suspects we should be looking out for; hurrah!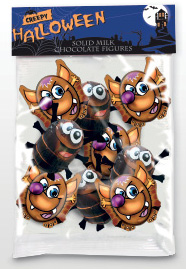 "My kids were particularly thrilled with the solid milk chocolate 'Creepy Spiders'" reveals Sam, "they loved the patterned tin foil wrapper and the cardboard legs."
All of the chocolate is milk chocolate and Sam tells us that it's very lovely milk chocolate, and not naff like some cheap milk chocolate can be - we weren't really jealous at this point *sigh*
"The spooky marshmallows were lovely too," says Sam, "but for some reason my youngest didn't like the orange ones, only the white ones. He said they tasted different , but I couldn't taste any difference at all...and let me assure you I conducted a thorough test!"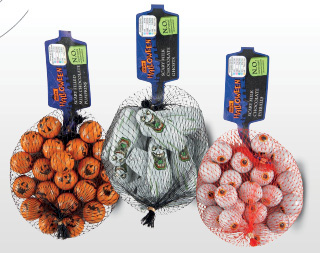 We were very impressed with the quality of the wrappers of all the Halloween treats that ALDI sent us - they were bright and colourful, unmistakeably spooky and Halloweenesque and unbelievable value for money.
There must have been between 20 and 30 individual little scary chocolate pumpkins and ghosts in each bag, at least 10 creepy chocolate spiders and 10, or more, spooky lollipops.
"Now, about the lollipops..." continued Sam, "we're really sorry but we won't be able to give an opinion on those."
Now this was something we hadn't expected! Everyone loves lollipops; we wondered if perhaps we'd forgotten to put them back in the box, but there was no sign of them lurking anywhere in the PlayPennies office.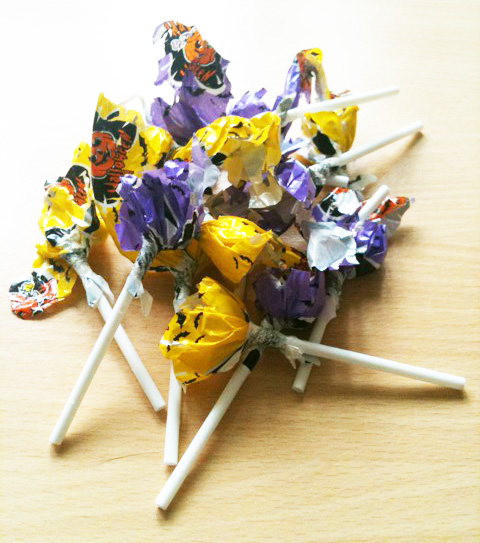 "We can tell you however, that they must have been very tasty as our dog ate them all and left us just with the bottom of each wrapper still attached to the stick!" Sam revealed!
We're very pleased to be able to report that eating 10 ALDI spooky lollipops had no adverse affects on Sams' dog whatsoever...must be because there's 'NO NASTY STUFF' in them!
And Finally...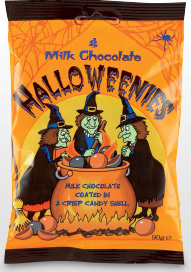 Sam was very impressed with the quality, quantity and value for money of all the Halloween treats from ALDI.
"Everything is absolutely ideal for having by the door to put into Halloween buckets, a little bit of money will go a very long way and keep a lot of Halloween hunters very happy.
I'll definitely be going to ALDI to stock up on some more in time for Halloween night and won't have to worry about breaking the bank!"
All of these things are ideal too, if you're throwing a Halloween party too - a few bags and a few bowls of treats and you'll be well away.
HAPPY HALLOWEEN!