Organic Babies New Born Hamper Review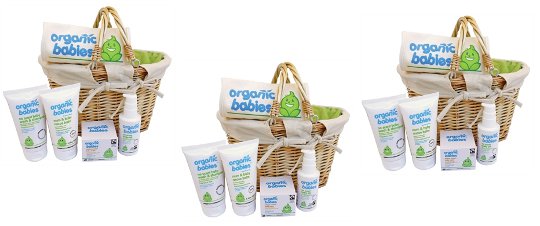 It's no secret that I love Green People, so when I received a gift hamper for my new baby, I was absolutely thrilled.
A set that comes beautifully presented in a handy reusable wicker basket lined with non bleached cotton, and has over £40 worth of products in it – yet sells at £34.99 – can only be a good start.
Inside you'll find Scent Free Mum and Baby Rescue Balm, Scent Free Baby Oil, Scent Free Baby Wash and Shampoo and Chamomile Nappy Cream Baby Balm as well as an organic cotton bib with a picture of Budsie, the Organic Babies logo character.
We reviewed the Nappy Cream Baby Balm last year – but I'll say again: this stuff is amazing. It's honestly the best nappy cream I've used, and I've seen broken skin regrown the next day after using it – not just for nappy areas either. It works really well on eczema. I love the stuff and use it on my own dry and cracked skin sometimes.  I sometimes think I should sell it since I recommend it as far as I go anyway.
We've also reviewed the Baby Oil, so I'll leave you to read that review in peace.
The Rescue Balm for mums and babies can be used on dry skin as well as on sore nipples and perineum before birth. It contains Calendula and Vitamin E to soothe broken skin, and has shea butter to reduce dry skin. The sunflower, sweet almond and hemp seed oil soften skin, which makes it useful for the perineum before birth, and since it is fragrance free, it can be used on the most sensitive areas without problems – especially for people prone to eczema and psoriasis.  It does contain beeswax, so is fine for vegetarians, but not vegans.
Finally, the No Scent Baby Wash and Shampoo is ideal for babies as it contains no SLS, Parabens, Lanolin, phthalates, artificial perfumes, petrochemicals and colourants and as such will not irritate new skins (although it's still advisable to only use water on your newborn.)
You can use this baby wash and shampoo for hair, body and nappy area washes, but it's also a nice body wash for pregnant mums as it doesn't have any scent – idea if you're still struggling with smells in late pregnancy.
Something I've said over and again about Green People products, and can say again about this range is that while you're paying more per item than you would a mainstream product in your supermarket, these last so much longer, a little goes a very long way, and for me, the long term benefits to my skin are immeasurable.