Christmas Teddy Bear £7 @ Mothercare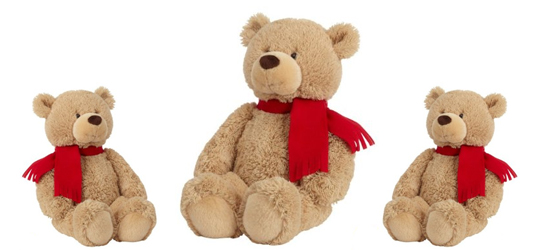 For the second year in a row I've been charged with buying, and safely flying home to South Africa, a Harrods Christmas Bear for a member of my family; he's very cute but I wonder if I could get away with this £7, instead of £20, Christmas Teddy Bear from Mothercare instead!
Whilst I wasn't a dolly type of girl when I was little, I absolutely ADORED teddy bears and I had lots of them.  Sometimes you don't need a toy that does anything other than just be soft and perfect for cuddling, this Christmas Teddy Bear from Mothercare looks like he's more than up to the job to me (I'm rather tempted to buy him for myself!).
If you're in denial about Christmas then it's time to man-up now, there are a mere 53 days left until the big day itself and at £7, rather than £20 (just in case you didn't get that the first time) I wouldn't be surprised of this Christmas Teddy Bear goes out of stock fairly quickly.
The best thing about him is he's suitable from birth and machine washable too; a perfect companion for your baby and their first teddy bear (of many, you can't escape that I'm afraid).
He's available for in-store collection too, which is the option I'd take otherwise you'll pay £4.95.
Thanks to EXZAMS at HUKD