BabyBlooms Baby Clothes Bouquet Review

BabyBlooms are a "new baby" gift company with gorgeous ideas for spoiling parents and their little ones.  We were sent a baby clothes bouquet to review and tell you all about.
When my daughter was born, we received a baby clothes bouquet from my husand's company and I remember sitting on the bed nursing my newborn, and trying to unwrap with one hand what I thought was a really unique presentation and gift idea.
Instead of flowers that die, a clothes bouquet looks like a bunch of flowers, and gives you the same 'Ah! Flowers!' feeling, but they actually have a practical application: the flowers are made up out of baby clothes.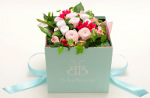 BabyBlooms clothes bouquets come in pink, blue or neutral colours, but they also have bright bouquets – which are fabulous – and bouquets that come with teddy bears and all sorts.  The baby clothes are interspersed with silk flowers and foliage which you can keep forever, or use in something else. The small bouquets, BabyBlooms says, can be kept intact and will still look great after the clothes have been removed for use.
The clothes you receive will depend on the size of the bouquets you've been given.  The clothes are uniquely designed by BabyBlooms and have the double B logo.  The clothes al have elastine cuffs and are machine washable at 40C. The clothes are for newborns, so sized from 0-4 months.
In pink and blue the clothes are 100% cotton, and in cream they are organic cotton. The small bouquets include a range of socks and hats, and the larger bouquets also have bodysuits, sleepsuits and bibs.
Presentation wise, the BabyBlooms bouquet is wrapped up in tissue paper to keep it all together in a pretty way, with a ribbon around it and placed in a strong and sturdy box. This is a good thing as our box arrived rather badly battered and torn down one side, but the bouquet was in pristine condition.
The Good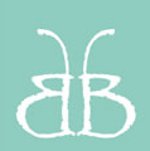 Usefully for someone as curious as me, there's a key on the box to tell you what's in it, so you don't have to start ripping your bouquet apart the moment you receive it. It can be the centrepiece of the room for a while – at least till baby arrives - without you dying of curiosity.  Our bouquet had a pair of mittens, four pairs of socks, a hat, a babygrow and a bib in it, all in white as we don't know our baby's gender yet.
As you can see from the images in the header, it's a good size – at least in comparison to my child's average sized head.  It's very nicely put together and looks professional. It's the kind of gift you can give to someone with pride, because it just is a lovely gift.
You're also not limited to white, blue and pink as there are 'bright colour' options, and there are also bamboo options, so all tastes can be catered for.
I also think the prices on these are pretty good. I've seen similar that cost much more than BabyBlooms do and nice as they are, I wouldn't pay, e.g. £60 for a baby grow and a few accessories. This medium sized bouquet is £39, which while still more than you'd pay for the clothes in Tesco, is a much more affordable gift, and one that will be appreciated and valued.
The Bad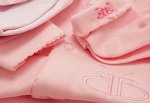 I'm not that crazy about the clothes all having the BabyBlooms logo on them. It's a small thing and not overly obtrusive, but I am not mad about branding on most things, and think that while it's a great marketing strategy, I'm not keen on it. I'll still dress my baby in their goodies, don't get me wrong, but every time I see the branding it'll irk me.  That might just be a me thing though.
It's also about the only 'bad' thing I can think of. There are flowers, baby clothes, wrapping, and a postman who delivers it to your door. What's not to like?
The Verdict
If you're looking for a unique and useful new baby gift for a colleague or friend, this is a great idea. We really loved getting a bouquet from my husband's work. It felt more personal and useful than flowers, but more special than someone who popped out in their lunch hour to 'pick up something'. (I've done that myself many times for colleagues, who've had new babies, so I appreciate this gift more.)
I think BabyBlooms are on to a winner and their rather expansive range of gifts for babies and parents and even grandparents is pretty impressive.