Baby Gifts from £5 @ Cath Kidston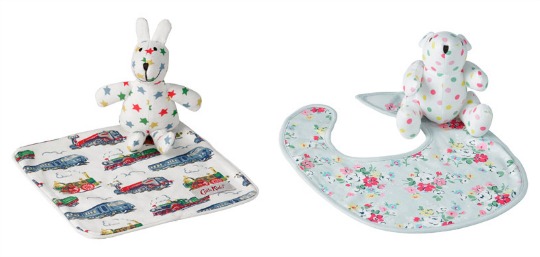 Cath Kidston always have some gorgeous baby goodies, but I try to restrict myself to looking at the Outlet section to pick up the cheaper prices. The stock levels are really up and down, and some of the items that were out of stock a few days ago are back in again, so these are what I could find for new babies.
I love the Tiny Trains Bunny In A Box*, which is reduced from £15 down to £5, and I think this would make a wonderful gift for a newborn or for a baby shower present.
The Mini Rubber Ducks Baby Jersey Gift Set*  and the Clifton Rose* design that Nada told us about is also back in stock, but I wouldn't expect that to last long! They are reduced from £28 to £10 so will fly out once more!
There are also two different Baby Teddy & Bib Gift Set down from £14 to £10, in Clifton Rose* and Rubber Ducks*.
The Rubber Ducks Bathtime Gift Set* with a hooded towel, wash mitt and rubber duck is half price at £14.
The Planes range has been reduced, with Bibs* now £4, the Baby Top* now £7, the Reversible Fluffy Gillet* now £10, and a reversible Quilted Baby Jacket* for £16.
There is also an especially beautiful Ballerina Baby Blanket, which was £55 (!) and is now a much more purse friendly £26. There is only one Baby Changing Bag* left in the Cath Kidston Outlet, and I don't think I can bring myself to tell you that it is any way a bargain as it is still £65!
Home delivery will add another £3.95 to your order unless you are spending over £50, or if you have a store nearby the Click and Collect service is free.