Hello Baby Gift Set Review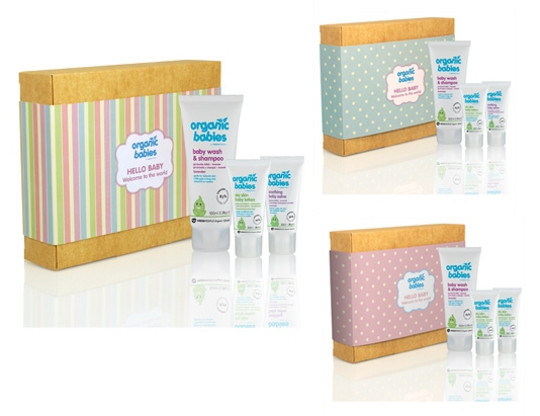 Green People have recently launched a new gift set for new babies and their mums. The Hello Baby Gift Set sells for £15.95 and comes ready to be given as a gift - no need for extra wrapping.  It comes in three 'styles' one for neutral, one for girls and one for boys.
The neutral one is nice with blue and pink stripes and a few others thrown in for good measure. The boys gift set is blue with white dots and the girls is pink with white dots.
The packaging is recyclable and has not been air freighted. It's also really pretty – an ideal new baby gift, great for baby showers, or a first Christmas stocking filler.
Green People's Organic Babies range are made without SLS, SLES, parabens, alcohol, artificial fragrances, petrochemicals, lanolin, harsh foaming agents or artificial colourants, making it perfect for the soft and delicate skins of newborns and their luxury deserving mummies.
There are three items in the gift set two of which are quite small, 'taster' sizes and one is a full size.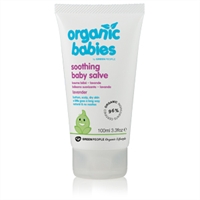 The Soothing Baby Salve is a 30ml tube of moisturising cream. It has a vaseline sort of consistency, and a lavender scent. This cream is amazing for soothing sore and dry skin, both on mum and baby. It can also be used to ease sore nipples and relieve nappy rash.
If the cream gets too hot the oil and cream seems to separate a bit, and when you squeeze it out you get a bit more oil than you expect, but keeping it in a cool place fixes that pretty quickly.
I really love this salve. It smells gorgeous and it leaves skin silky smooth and beautiful.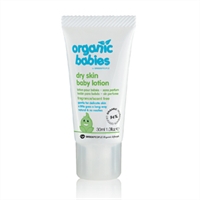 The Dry Skin Baby Lotion is also in a 30ml tube, and is a white scent free cream. It is an ultra-gentle moisturiser which can be used for massaging and moisturising both mum and baby. This cream is rich in Omega 3 & 6 and fatty acids to soothe dry skin.
There's really nothing bad to say about this product either. It draws in to the skin quickly, and being scent free, it kind of smells like nothing but something you can't quite put your finger on. I'd probably have preferred to have it lavender too, but since babies aren't really supposed to have essential oils used on them, this is probably best for a newborn.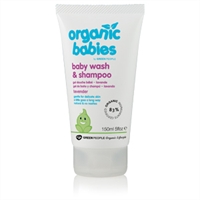 The final product, the Baby Wash & Shampoo is a favourite around our home and is often used as an excuse for me to bath with the children! It is a really mild, gentle lavender baby wash and shampoo that leaves their hair soft and silky. The lavender helps them relax into bed time and there are no tears when it comes to hair washing – or no tears from the shampoo burning their eyes at least.
The set is vegetarian, but it isn't vegan since  it contains beeswax.
I've often given Green People products as new baby gifts, because it's a product I honestly love. Because it's an organic product that costs more than supermarket 'normal' brands, new parents might not buy it for themselves as they see it as a 'luxury' item, which makes giving it as a gift really nice. Especially since in my experience, Green People products last as long as the other brands, since you use so much less at a time, and they are just so much nicer. I personally love that my babies aren't absorbing a mass of chemicals through their skin.
The Good
It's Green People. To me that's synonymous with good.
It has a lovely presentation and is gift-ready
All three are products that will be useful for new mums and their babies, but can also be used and be equally as useful into toddler hood, childhood and adulthood.
I love all the products in the gift set
The Bad
As a user of Green People and Organic Babies and Organic Children products, I don't really think £15.95 is too expensive for a product that has three items in it, but I suppose that it could be seen as pricey if you're used to paying a lot less for other products.
The Verdict
I love it, I use it on myself, on my babies, I order it and pay for it with my own money, and give it as gifts. Yes, it can be hard to swallow the cost initially, but when you see how long it lasts and how fantastically well it works, along with the feel good factors of good products, ethically sourced and responsibly produced, there's very little argument from me!