Mamas and Papas Discount Bank Holiday Event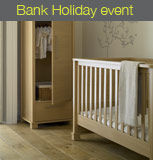 It's that time of year again! Everyone is slashing their prices in a bid to tempt you in and spend your cash before the end of the Bank Holiday on Monday - Mamas & Papas are no different and have a big Bank Holiday discount event going on.
There are so many bargains to be had that it's always difficult to know what to show you!
There are up to half price discounts right across their departments and ranges; if you're expecting a little one soon and have some big purchases, such as nursery furniture or a travel system, still to buy then you could save yourself a fair few pounds with a bit of careful bargain hunting.
If you're already sorted with those big things and are looking for bits and pieces to decorate a nursery with, then there are discounts to be had on nursery interiors too.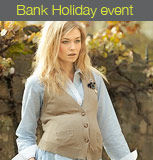 When I was looking for things for my youngest I completely and utterly fell in love with Mamas and Papas' Millie and Boris range (this is the new range and it's not included in the Bank Holiday discount event - but I'd hate for someone to miss Millie and Boris because I didn't mention them!)
There are bargains up for grabs on maternity clothes, kids clothes and for those of you who are super organised and looking for *whispers* Christmas gifts then there's money off those too!
This Mamas and Papas Bank Holiday discount event will end at midnight on Monday 30 August; happy bargain hunting!
Thanks to magicbeans over at HUKD!