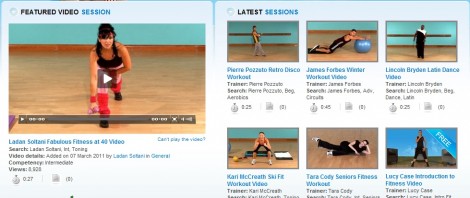 Here's the thing. We all want to be fitter, but if you're a parent, finding the time to do that is tough. So, if you're like me, you've probably gone out and bought fitness DVDs and videos. Only to have them gathering dust because they weren't the right exercises for you, or it doesn't seem to fit in with your lifestyle.
So I was pretty intrigued when I heard about ThinqFitness. Now this is on-demand fitness videos, with more of a personal feel to it. You can just pay per view, if you want. There are samples available to try out on the pay per use pages, if you're not sure you want to join. Once you've signed up, there are freebie fitness videos as well.
PlayPennies mum Tracey is one superfit lady, who just loves all this sort of thing. We got her to give them a try, and gives us her opinion.
Tracey is a self confessed exercise addict. Her first impressions were pretty good. "The range of exercise options on there means I can do whatever exercise fits my current mood and time frame. There are videos for women about to hit 40 (or over) designed to help you get the best from your body, short workouts, disco workouts and more."

If anything she was overwhelmed by the choice. "It was actually quite boggling to choose from at first and I haven't even touched sides in terms of all the different options available. Brides to be, maternity, childrens, teens, dance. It is all there. "
There are different ways to participate. Some of the free workouts available are pretty good according to Tracey. Aternatively you can join the site and pay full membership. This is  £4.99 a month.
In her experience of various gyms and fitness regimes Tracey thought that was pretty good value. "You'd pay far more than that to join a gym and this way you can be sweaty and clumsy in privacy, rather than at the back of the class behind skinny superfit maniacs who make you wonder if you should have had that hot cross bun for breakfast."
She did wonder how people would find it as the system is online. This could be a disadvantage. "I am fortunate enough to have a PC hooked up to my TV so I just boot up and get going. I found the videos a little difficult to follow on my netbook and that was my only other option." However, if you have a PC in the bedroom or lounge with some space around you, there are quite a few workouts you can do in limited space. It may get a bit frustrating but Tracy didn't think it was too bad.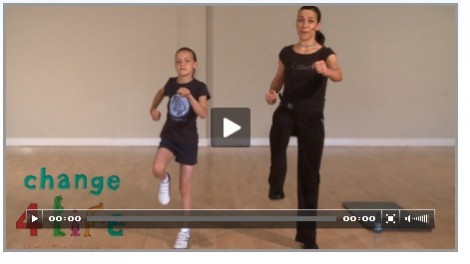 As a mum Tracey found another positive in the exercise routines."Some, especially the dance ones, are great for including kids. My little one had loads of fun bopping next to me while I danced to the beat. She may not have got the actual exercises right, but she definitely had fun and got some much needed energy boosts."
ThinkFitness has in fact built this child-friendly approach into some of the dance routines. The idea is to get mum and/or dad dancing away with the kids joining in. Their expert, Vanessa May (BSc Nut Med, NTC and BANT reg) proposes taking a holistic approach. If you set a good example and show that exercise can be fun, then your children will do the same.

This, coupled with other activities (as she points out, walking around a museum can be a fairly strenuous exercise) will raise the fitness level of our children. If they enjoy dancing about, you can use that as a reward for good behaviour (instead of chocolate or a cookie. Oh I am a bad mummy!).
And Finally ...
The site can only take PayPal for the pay per view products, but for membership you can make arrangements to use another payment method. There's a range of activities to choose from. The categories are general, sport, dance, breathe, health and gym.
Positives: easy to use, good range of exercise routines, can do this in the comfort of you own home, dance along with the kids, inexpensive
Negatives: you are tied to the computer, which is not good if it is a netbook or if it is in a cramped space.