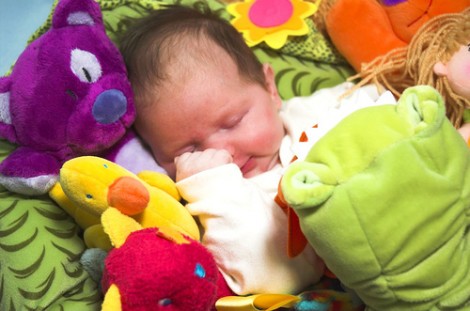 Winter may be very pretty, especially when the snow trickles down and covers the world in a white blanket, but the colds and flu that come with this season are not. Runny noses, damp foreheads and sore tummies are all part and parcel of parenting with germs.  However, I was fortunate to get in some new and interesting solutions for children, to ease their discomfort and help them sleep.
These products have all been reviewed by a panel of desperately tired mums who were willing to try anything to get their tots well and, most importantly, to sleep.

The first item on the agenda is from the Mum's firm favourite, Calpol. There are few parents that haven't heard of their syrup so you'll be delighted to hear about their new saline nasal spray. Babies and young children get very grumpy when their noses clog up, they just don't have the same sources of relief as we do! All of our mums liked this product.
It was easy to insert into baby's nose and had a smooth control so you didn't risk jerking it high and hurting the child. It was even used on a toddler that hates the idea of anything going near his nose and he loved it. He even asked to use it again when he was well.
The spray is non-medicated and so won't affect any other medicines you may be using and is fine for babies from birth. It did work quite well, easing the little one's discomfort to a recognisable degree. They retail for £3.99 which is really reasonable and should last you a while. Just make sure you wipe down the nasal injector after every use! 

The next lovely doodad to enter into our illness testing laboratory was the Baby Nose-Clear room vapour. I fell in love with this stuff, so much so I nearly didn't let any of the other mums get a chance to review it. The smell is reminiscent of the days when we were looked after by our mums and is wonderfully easy to use.
Just throw a few drops onto a damp towel over the radiator or into a bowl of warm water and it starts working its magic. It also works with humidifiers and vaporizers. The vapour is made from essential oils that include lemon, tea-tree and pine oils.  I think it worked, my daughter loved the smell and it seemed to soothe her to sleep. I did notice a difference in her breathing and sleep once I introduced it.
It retails for £6.99 which is a fab price when you consider how long this one little bottle will last. You only need a few drops for it to completely permeate the air.
The final product that we examined was the Baby Nose Clear aspirator. This device is inserted into baby's nose and is used to suck the snot out. Yes, the idea is horrifying. I have to tell you that it took some arm wrestling to get any of our review mums to try it out. It takes a stomach of iron to pick it up and start sucking.
Mums with active and fussy babies didn't find it very easy to use as they constantly wriggled away from it. The others used it when their babies were asleep and said that it did work but they really struggled with the concept even though they saw a significant improvement in their child's breathing.
The device itself was developed by a mum of premature triplets and retails for £6.99. I am not sure about this product. It definitely works, it removes the gunk and clears breathing, but the fact that it has a separate vacuum to catch the snot and that you have to do the sucking is a bit hard to overcome. Sturdier mums rated it highly though so, if you're an earth mother in training, then this is definitely worth a look.