Persil 2in1 And Small & Mighty Review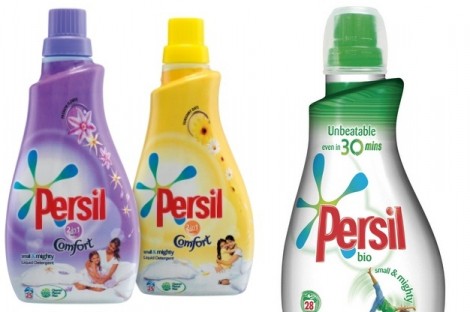 I have a child in the house. Just the one. He is six and a half, and as far as I can tell he rolls around in mud all day. I imagine that his lessons at school go something like this. Two plus two equals four? Well done. OK off you go outside and spend five minutes rolling about in mud.
Not having a utility room means my kitchen is piled high on a daily basis with clothes to be washed. In fact, right now I can't get to the back door as it is piled high with duvets and bedding waiting for their turn in the washing machine.
The chance to review two types of clothes detergents from one of the leading brands wasn't going to be missed. Do they work? Do they get stains out? Did they treat clothes kindly? That's pretty much the questions any parent wants to know.
So read on to find out just how our tester Theresa got on, and whether the answers to those questions are good - or bad. Theresa has a daughter who is six, and a husband, and lives a gloriously outdoor lifestyle right on the coast of southern England. She has been using both sets of Persil consistently over the past few weeks.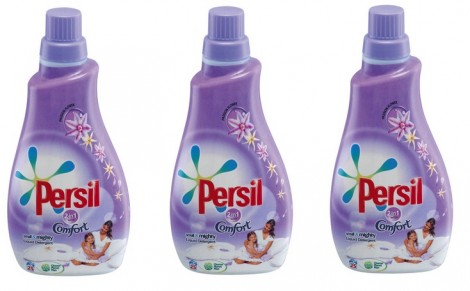 Persil 2in1 with Comfort
New to its range of detergents is the Persil 2in1 with Comfort (875ml, £6.28 at Asda). No need to explain more than that really, with two such well known brands being combined. It comes in two scents, 'Sunshiny Days' and 'Passion Flower'.
To start with Theresa explains her testing criteria. "First,  the clothes need to come out soft, soft, soft. Second, they need to feel clean. Third, they must be free of stains and dirt of the sort that comes out easily enough without special extras."
The 2-in-1 fulfilled both points 2 and 3 perfectly. Theresa thought the clothes came out sparkling clean and in a markedly better state than with the washing liquid she normally uses.
"This did make me sad though because I used an organic 'save the planet' brand before and it was both more expensive and slightly smellier," she commented.
Overall her clothes came out shiny and clean and some stains that had nestled in comfortably on her daughter's school clothes were gone. Theresa gave it 8 out of 10 for washing, with points off for the environment.
One selling point of this washing detergent is that it is ideally suited to cleaning toys. Good news for Theresa who had the unfortunate need to put it to the test. "We were in the throes of some nasty threadworms courtesy of my daughter's school, so I threw every single machine washable toy into the machine and sent them along with the 2-in-1."
Interestingly enough, she found the toys came out smelling heavenly and feeling soft. The clothes, did not. While she thought they smelled lovely, Theresa found they were just a bit to crispy for her taste. "Also my cardigans got that tight yarn feeling that sets my teeth on edge. Ever scraped your teeth on wool? Yeah, that. So it honestly is not for me when it comes to clothes and yarns."
However, as a toy wash Theresa thought the 2in1 was spectacular. As there was no need to add softener, she could limit the length of the wash, and she was impressed at how fabulous the toys looked afterwards. "Even our McDonalds Smurf colleciton looked better afterwards than they did when we got them. Colour me impressed here."
She also really liked the result when used on towels. " This 2in1 doesn't get the towels back to their original shop softy softy but it doesn't leave them as crusty as a normal wash and condition."
Persil small & mighty
Now I really loved the blurb for Persil small & mighty (1L, £6.40 at Asda). On the website it says that the "new Persil small & mighty liquid concentrate achieves outstanding results even on a 30 minute quick wash cycle- great for hands-on parents who would rather enjoy activities with the kids than do the household chores."
One of the reasons I like using a biological detergent is that you can use it at much lower temperatures. A cold wash in my machine, without any extra settings, comes to 30mins. I would love to have a wash go through that fast and clean my clothes!
So how well did it test - keeping in mind that we are just looking at one off washes for one family over a few weeks.
Theresa was more impressed than she was with the 2in1. She uses Comfort as her conditioner anyway. Together the two left her clothes feeling fabulously soft (her number 1 criteria, if you remember from above).
"I washed my brand new cardigan yesterday. I was so afraid to, I mean I know I HAD to for hygiene reasons but I was sad to see the softness go. Well, this morning my beautiful cardigan was soft soft soft and smelled utterly blissful." Theresa has a bit of a thing for lovely, scented fresh laundry. She has been known to stand in the laundry detergents aisle unscrewing caps for the aroma.
"I am aware that I probably look like a mad person on the security camera. So, it is high praise indeed for me to say that this delivers a scrummy smell." Having hung her washing up indoors, she was impressed to come home from the shops to an overwhelmingly fresh and amazing scent.
She found it also cleans very well, and is finding it hard to go back to her environmentally friendly liquid.
Theresa comments that even "without softener this does make for fabulous towels, crisp linen and a nice smell too."
And finally ...
Theresa is going to keep both bottles on hand for the future.The 2in1  for toys and towels, and the small & mighty for when she really needs a nicely scented, and clean, wash.
Also, Persil has some activities for parents to do with their children this autumn, up on their website. Check them out by clicking HERE.