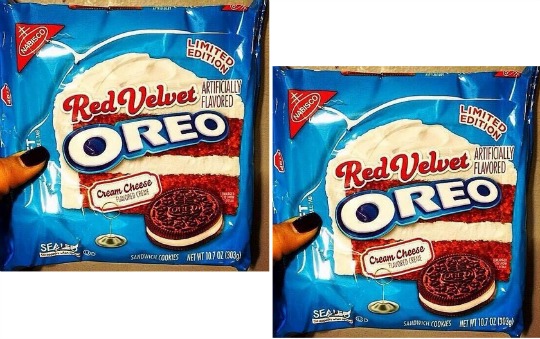 We heard news today the USA will be getting a brand new type Oreo, lucky beggars. The special Red Velvet Oreos are released especially for Valentine's Day. We aren't jealous at all. Okay, so I am a jealous liar. The UK won't be getting these special biscuits so us lovely PlayPennies girls have compiled a list of five really naughty things to do with oreos.
1. Make Oreo Cocktails: These are not for kids. Why should they get all the goodies? Splash of milk, lots and I mean lots of Baileys, and ground Oreos.
2.Make Oreo Milkshake: Warning! This milkshake will bring all the boys to the yard and make you backside enormous. Grab some ice-cream (vanilla or chocolate), shed loads of Oreos and a spalsh of milk. Blitz in the blender and pour into the glass. Down it infront of your least favourite child.
3.Make Oreo Cheesecake: Nevermind the recipe, crush some Oreos with melted butter and top with an icing sugar, cream cheese and Oreo mix. Smear all over husband and enjoy date night! Lacking confidence? See number 1!
4. Make an Oreo Sandwich: Two slices of bread, chocolate spread and fill to the brim with Oreos. It's might sound gross but this will cure any "time of the month" woes I tell ye!
5. Make a Giant Oreo Cookie: Your kids will moan that you eat all the Oreos and your butt says your right. I suppose you could buy loads of Oreos and make them into a giant one. That'll mean you will have to share. Drown your sorrows with number 1!
Want the real recipe for the Oreo Cheesecake?