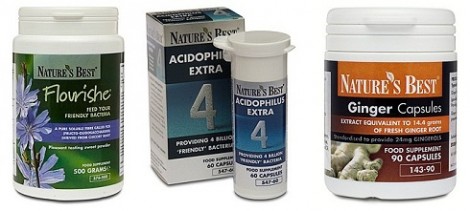 Why is it that whenever I go on holiday, the first thing that happens is I come down with something? It often feels like my body has gone on holiday as well and telling my immune system that it can take a break now and stop fighting, we're in relax mode.
Well, my idea of relaxation doesn't involve a runny nose, achy limbs and a temperature. Then there's all the stuff you can pick up in foreign countries. A report from Boots Travel Probiotic found that 48 percent of us will suffer from gut problems while on holiday overseas.
Most of us have an immune system well used to handling local bugs. But if you travel 100 miles or more from home, then even normally benign bacteria can upset your system.
So, what to do to prevent you starting a holiday with a cold or on the loo? One answer is to take supplements and boost up your system. Possibly a good idea after winter anyway, regardless of whether you're off on hols or not.
Nature's Best is one of the ranges available that aims to help you with just these issues. It isn't the only range of supplements, but we can't test them all. This particular range is made in the UK, and uses natural ingredients of the highest possible grade. Or so they claim on their website.
We gave them to busy mother of one Erica, who also works full time running her own business.
Flourishe
Flourishe (500g, £10.70) is a soluble fibre called FOS that, according to the Nature's Best website, promotes the growth of friendly bacteria in the bowel and is therefore called a prebiotic, (rather than a probiotic, which is the name given to a product containing friendly bacteria).
Erica was quite surprised at the large size of the tub, it's about 15cm tall. I think I would find that rather daunting myself.
There was another, rather more antisocial, suprise in store. "I was surprised at the number of times  the word flatulence appeared on the label – it was stated 5 times." says Erica. " I was to be in for a windy time! I was quite concerned about the flatulence actually, so I started taking the supplement when I knew I didn't have to go out for few days."
Usually, Erica doesn't drink a lot of fluids in the day. "But I know I should be drinking more." The label statues that you should drink two litres of water a day. This was a lot more than Erica's regular daily intake. "It was a bit of a chore for me to be honest. And as a result of drinking so much more than normal, I did pee a lot more, which is a bit of an inconvenience!"
You can either dissolve the sweet powder into a hot liquid, or just take a raw spoonful. Erica opted for the latter, and found that, washed down with some water, it was just fine. The following day she tried it dissolved in water but the taste was so bad that she didn't try to repeat that particular experience. Finally she tried it in her tea, with some sugar, and found that was her preferred method of ingestion.
"That first day," says Erica, "I was working on the home computer, and my other half was in the room too. I screamed out, 'I think I'm going to crap my pants!' And ran for the toilet.  The Flourishe was a success!" Too much information possibly? It sounds a bit drastic, but luckily after that first day her digestive system settled down.
Over all this was a hit with Erica. "As I don't have much fibre in my diet anyway, It definitely has improved my regularity and I will be taking Flourishe from now on."
Acidophilus Extra 4 Billion
This is a probiotic product. Each Acidophilus capsule contains 4 billion live friendly bacteria (60 capsules, on special offer at £11.25).
The Acidophilus is different to the Flourishe supplement, as you're actually ingesting the bacteria. Erica's other half tested out these supplements as she didn't want to mix them with the Flourishe.  He took one tablet in the morning and one in the evening. The tub specifically states not to take them with hot drinks, as this would kill the bacteria, so you can't take this with your morning coffee.
"Within a week, he was noticing a definite improvement in his general well-being in the toilet department!" says Erica.
"He is one of those men who goes to the loo and I might see him again an hour later. With taking the Acidophilus, I noticed that he wasn't spending as much time in the loo, so he had more time for household chores!"
Ginger Capsules
I was particularly interested in the Ginger Capsules (14,400mg, 90 capsules £7.95) as, like Erica, I hate ginger. But I have found it to be hugely effective in the past for combating nausea.
Nature's Best explains that Ginger has become popular as a supplement for helping to maintain healthy joints, alongside the joint friendly nutrient glucosamine. It'salso a well known aid to digestion and its 'warming' properties means it has a settling effect on the system.
"I was wary of even opening the tub of ginger capsules" says Erica,  "in fear of the assault on my nasal passages. When I did open the tub, the smell was very strong but it dissipated after a little bit." Taste-wise,  Erica was surprised to find that while it was a little spicy on the tongue, it was not a very strong ginger taste. You're supposed to take one ginger capsule per day.
The benefits - stronger joints, less travel nausea - are things which are kind of hard to measure in the course of a short review time, so Erica couldn't comment specifically on any of these. She did find that her heartburn settled down a bit since she started taking the capsules.
And finally ...
Erica is going to keep taking Flourishe, but her other half is still undecided on whether the Acidophius is worth it. Although the capsules are hard to judge, I may give those a try myself. If you like the taste of ginger though, you'd find it just as effective to smash up some raw ginger and steep it in hot water to make tea. I don't, and would rather just swallow something like these - very quickly!