Myreen Young Firming Brightening Serum Review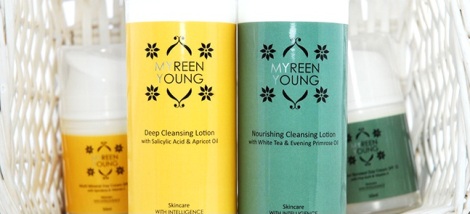 I am getting old. I have finally succumbed to wrinkles and holes and eyes that look like they need a month off. So I have decided to make 2011 the year of the anti-aging cream/serum/rescue and to start out my adventures I nabbed Myreen Young anti-aging serum.
The Myreen Young Firming Brightening Serum has Hyaluronic Acid and Pine Bark as two of the most active ingredients. These firm, lift and hydrate the skin. Apparently pine bark extract has over 45 times more wrinkle fighting properties than CoQ10.
I have been travelling quite a lot over Christmas and my skin has taken a beating. The dry air of aeroplanes, the different climates, and the usual winter drama of hot to cold and back again have dried my skin out considerably.
I used the serum every day for about two weeks and I have mixed feelings. First the good points…
A little goes a long way, two squirts will cover your face, neck and décolletage quite comfortably – this tiny bottle will last you for ages. My skin did look brighter and fresher after about a week, which is definitely a result, and it did feel really smooth.
On the bad side the serum made my naturally fair and dry skin feel incredibly tight and even drier than normal. I think that this would work really well on skin that is prone to oiliness or that isn't quite as fine as mine, though. But, for me, it was too drying and I had to apply another lotion afterwards to stop my skin from looking flaky under make-up.
The serum retails for around £21.50 on the official site which is quite pricy, but the actual serum will last you for months – I really did find that a tiny squirt went a very long way.