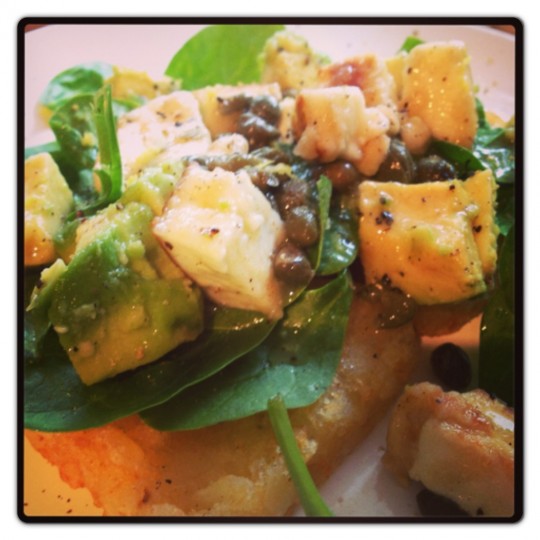 A few weeks ago, McCain's got in touch and asked me what my favourite breakfast would be. At the time I shot back a list with the things I love to eat, and a few days later a Tesco delivery arrived at my door with almost everything I'd need for a lovely, luxury breakfast.
I roped my husband in to make my favourite breakfast: Halloumi with lemon, lime sauce on a bed of spinach and potato hash browns - to be honest that's normally toast, but we love this new McCain's version too. 
Here are the ingredients we used, per person:
3-4 McCains Hash Browns
1 handful of baby spinach
1/4 lemon
1/4 lime
1/2 tbs capers
1/2 tbs butter
1/2 avocado
1/4 - 1/4 block Halloumi cheese
2 tbs flour
salt and pepper to taste
To start with, we laid the McCains Hash Browns on my Pampered Chef baking tray, and put them in the oven at 220C for 20 minutes.
We decided to use these instead of the usual toast, so put out four per adult and two per child.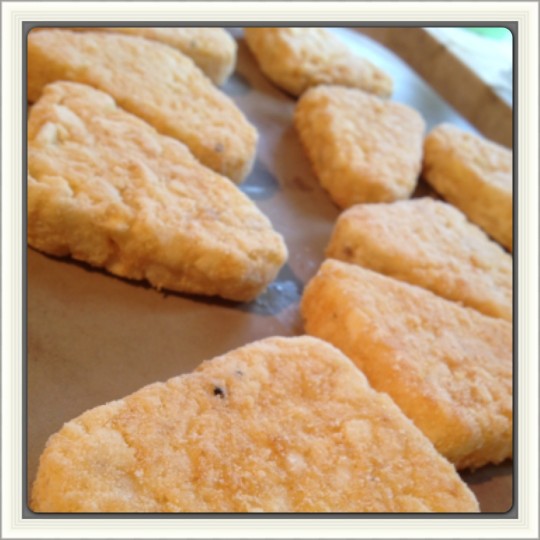 This gave us plenty of time to get the rest of the ingredients ready:
We peeled the avocado and chopped it into squares, sprinkling it with salt and pepper, and squeezing the juice of half a lemon over it to keep it from going black.
Next, I squeezed the other half  lemon and one whole lime - this was too much, in retrospect, and I'd recommend just a half  - into a pan with capers and a tablespoon of butter or oil. Keep it boiling till it reduces by about half.
When there's about five minutes to go, cut the Halloumi into strips or squares, and dredge through flour. Place in a heated pan with a little oil till it's golden brown, turn over. When it's golden on both sides, pop the Halloumi into the lemon-lime-caper sauce.
Remove the McCain's Hashbrowns from the oven.
To plate up, lay the hash browns on a plate, and cover with fresh baby spinach. Add the avocado and drizzle over Halloumi and sauce.
Salt and pepper to season and enjoy!
The Good
We normally have this with toast, but the McCain's Hash Browns took them from being a 'brunch' or a light breakfast to a full meal. We were all really full after eating it all.
They are really simple to prepare - put them in the oven, put the oven on.
They cook in 20 minutes, so whether you're having breakfast, lunch or dinner, you won't have to wait long.
The Bad
I'm not a huge fan of processed food, but when you have hungry mouths to feed, and need to keep costs down, you can't go wrong with having something on hand you can quickly pull out of the freezer.
The Verdict
The breakfast was delicious. It's still one of my favourites. The hash browns meant we were fuller for longer, and they added a crunch and a whole other flavour. They are really just the carrier for the salad, and potato made a nice alternative to toast. We were happy. There were also enough left over for another meal and an extra for a toddler lunch. At £1.65 a bag, it's a lot easier than having potatoes to peel and cook when you're in a hurry.