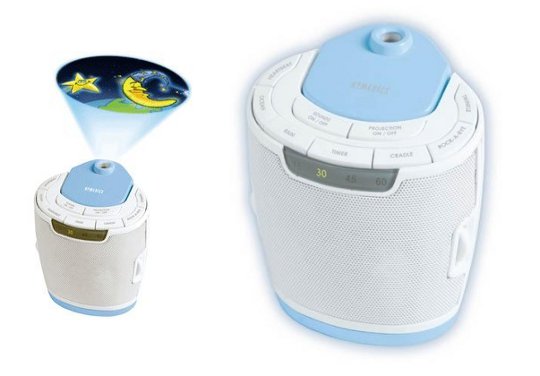 The Homedics Nursery Sound Spa Picture Projector is on offer at the Consumer Electricals Ebay Outlet store for £19.99 with free express delivery.  The same thing is £47.99 at Amazon and £44.32 excluding delivery at Electrics Warehouse, so it seems to be a pretty good deal.
Watching my two year old, I find myself rather terrified at the prospect of throwing a newborn into the equation and can't help but feel a little apprehensive about what's to come.  I just find it hard to believe that we're back to thinking about playmats, newborn nappies and so on! I had a moving projector for my daughter, and she loved it, so I'm really liking the look of this all singing, all dancing nursery projector.
The Homedics Picture Projector has six soothing sounds as it plays Twinkle Twinkle, Rock-A-Bye-Baby, Cradle Song, Rain, Ocean, and Heartbeat sounds, which have been brought together to create a relaxing soundtrack to lull your little one off to dream land.
It has a rotating picture projector which includes three image discs of fish, stars, and animals that tilt and gently rotate through the projector's adjustable angle onto walls or ceilings.
Auto-Off Timer Timer allows you to set the mobile for intervals of 15, 30, 45, or 60 minutes and you can choose from sounds, projection, or a combination of both allowing you flexibility in the mood and the environment you want to create for your baby each night.
Thanks to silhouette at HUKD