Make a GIANT Jaffa Cake with Asda Recipes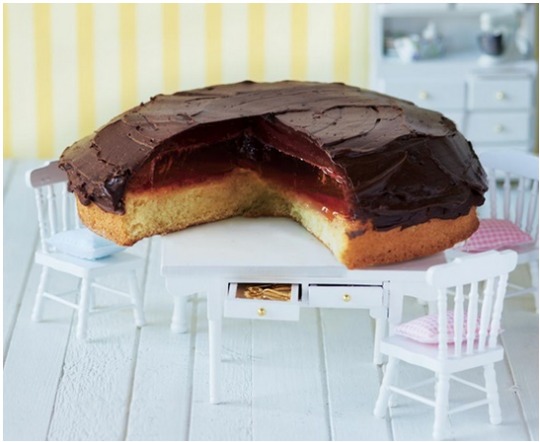 I am loving this trend for supersized versions of smaller snacks, and this Giant Jaffa Cake has got to be one of the best. It doesn't sound too tricky to make, and it looks delicious, so if you want to have a go here's how:
Here's what you need to get...
1 pack orange flavour jelly
2 large eggs
125g caster sugar
115g plain flour
65g orange marmalade
85g dark chocolate (50% cocoa solids), chopped into bits
125ml double cream
And here's what you do with them...
Pre-heat the oven to 180C/160C Fan/Gas 4. Grease a 20cm sandwich tin. Line the base with baking paper. Dampen a 14cm round cake tin and line with cling film.
Dissolve the jelly in 450ml boiling water. Cool, then pour into the cake tin to about 1cm deep. (You will have some left over.) Chill for at least 3 hours, until set.
Quarter-fill a large pan with water and heat to a simmer. Put the eggs and sugar in a large bowl, then stand it over the pan – make sure the base doesn't touch the water. Whisk with an electric hand-mixer until thick and mousse-like – when you lift the beaters out, they should leave a trail in the mixture.
Take the bowl off the heat and whisk for another minute. Sift the flour into the bowl, then fold into the mixture – try not to knock out the air you've whisked in.
Transfer to the cake tin. Bake for 30 minutes, or until the top springs back when pressed. Cool on a wire rack.
Put the chocolate in a bowl. Heat the cream in a pan until hot but not quite boiling. Pour over the chocolate and stir until melted. Cool, then chill until spreadable but not solid.
Spread the marmalade on the cake. Lift the jelly out on the cling film and fip it over to sit on top. Spread the chocolate over the jelly and halfway down the cake. Leave to set before serving.
I think that looks like it's going to be a firm favourite, and I am going to try that as soon as I get a chance. You can find this recipe along with loads of other amazing ideas on the
Asda Recipe website
. They also have a great section on Cooking With Kids if your children like to help in the kitchen, or you just prefer easier recipes like I do. ;)
Have fun!