I am a tad overweight; some would say "cuddly", others would say, "stop eating cake". So, I have decided to take the trend by the horns and subject my unfit body to the rigours of shoes that have been designed to exercise your muscles while you walk.
Yes, I am going to be using a pair of FitFlops from Fitness Footwear and I am going to document my results over the next three weeks.
As of today, I am going to pop on the FitFlops and commute to London. Yep. A two hour trip each way during which I solemnly swear to: walk up and down all escalators, stand on all tubes (not the 1hr20min train ride though), and walk everywhere while wearing these shoes.
On the days when I'm not missioning up to the Big Smoke, I'll be wearing them while doing all my daily activities – looking after my preschooler, cleaning the house, running around doing admin and so forth.
This is going to be the ultimate test to see whether these shoes do what they promise on the tin. Will they increase my leg, calf and gluteal muscle activity? I will be measuring my thighs, calves and bum once a week (the start-out measurements are below) to see if there is any difference as I go.
Will they improve muscle tone and increase bottom muscle activation? I'll be relying on the measurements and photographs to see whether my legs are showing any improvements in tone and musculature.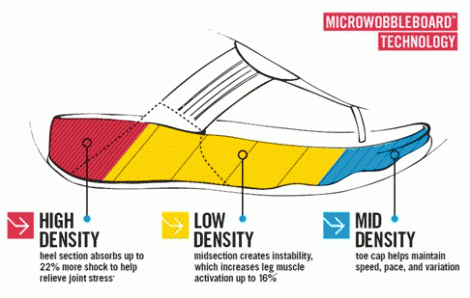 Will they reduce back stress and improve my posture? I suffer from back pain thanks to my typical computer posture so I will note exactly how much better my back feels at the end of a long day of walking and sitting. Obviously the shoes can't help my seated posture, but they may help ease strain on my back.
I will be updating the FtiFlop Challenge every day (except weekends) for the next few weeks so if you have any suggestions, think I need to add some more details, or have any extra ideas then please post them here. After all, if these DO work then mums of the world shall celebrate for we can exercise while we do our admin/work and save precious minutes in the day.
Start Out Measurements:
Thighs: 22 inches
Calves: 14 inches
Hips: 38 inches
I actually can't believe I am sharing my enormity with the world.

Expect the next measurements in one week! Oh, and I forgot to mention that I am not going to change my (bad) diet one single bit. Not a jot. Not at all. So the results will accurately reflect the results of the FitFlops.
I also have to say a big thank you to Fitness Footwear, who gave me my yummy chocolate leather FitFlops for the challenge.
EDIT: Sadly my shoes, my wonderful FitFlop shoes, were too big for me! So the FitFlop Challenge is on hold while the fabulous Fitness Footwear whisk a smaller pair on over to me.  Please check in on Tuesday for the next riveting instalment!