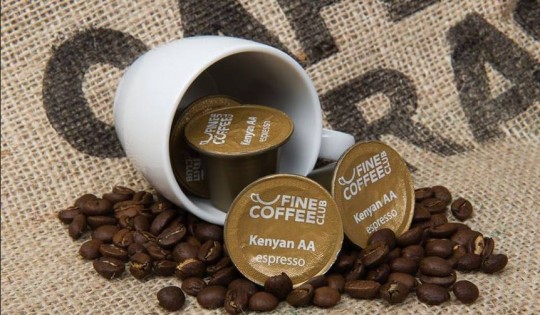 I'm a big coffee lover. My instagram account has regular #coffeeaddict hashtag use, and I have non-coffee drinking friends who keep coffee in the house, just for when I visit. I know I can live without coffee. I just don't know that I want to. So I was a pretty good bet for reviewing the Fine Coffee Club coffees when they came into the office. The only problem was that I don't own a Nespresso machine, so I had to rope in two friends, Emily and Samantha, to help me out. I do love the kind of job that sees me drinking copious amounts of coffee with friends, I must say.
I don't own a Nespresso machine because I am personally a firm supporter of the #NoNestle movement, and ironically so are Emily and Sam. They both own their Nespresso machines because their partners bought them - this becomes a pertinent point later, read on to find out why.
I took my box of  Fine Coffee Club capsules over to their houses and we set to making the coffee - we even held off eating cake, so we could really taste the flavours.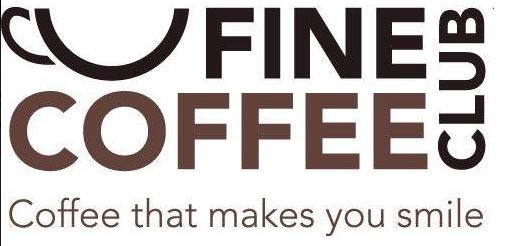 Emily found that the capsules weren't a perfect fit in her Krups machine. They worked most of the time, but sometimes they fell through unused and had to be taken out of the basket that catches the capsules and re inserted. For the difference in price she didn't feel this was a problem and we sampled four or five of the different flavours over the course of the afternoon. Neither Emily or I could really point to anything we didn't like about the coffees, and she felt she couldn't really tell the difference between them and their regular Nespresso capsules, although we agreed that The Fine Coffee Club didn't have the range of flavours that their regular pods had.
Samantha has the Magimix machine and she didn't find any difference in the pods, fit wise. They worked perfectly fine. Samantha quite liked the pods, and as an occasional coffee drinker (she has a very small baby!) was quite happy with the Fine Coffee Club. She has now switched to them for herself and for when loads of mums come around for play dates as they are cheaper.
The true test here, however, were the coffee-snob partners.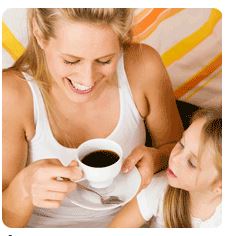 Emily's husband came in from work and was presented with a cup of coffee. He drank it without comment. He initially didn't seem to know there was a difference, apart from perhaps that she'd chosen a flavour that he didn't normally go for. Upon revelation of her deception, however, he was less than impressed and said he could taste it wasn't as good.
Samantha's husband had a similar reaction - he immediately knew it wasn't his regular flavour, and has not been interested in trying any since.
Personally I suspect that there's an element of coffee snobbery going on. I think both men like the idea of being coffee connoisseurs and a cheaper option doesn't fit in with that image. As budget conscious mums we were fine with these coffees. We've spent four years plus attending play groups - we've certainly had a lot worse.
As far as the coffee itself goes, Fine Coffee Club offer a selection of house blended and single origin capsules.
The house blends include a dark roast, medium roast, light roast and decaf. There's also one called Lungo, which I really enjoyed as a latte. These beans are from South America and Africa and create a full-bodied intensity and a lasting rich flavour.
The single origin flavours are from Kenya, Columbia, Guatemala and Rwanda.
The Deal
The Fine Coffee Club pods come in at 19 - 23p each. You can buy them from Fine Coffee Club online in boxes of 10 capsules and a minimum of 50 capsules at a time. Fine Coffee Club accepts returns for any reason free of charge. Ordering over 100 capsules gets you free delivery too. Otherwise standard delivery is £2.95.  This week only, the capsules are on offer for 10% less, making them 17-21p each. If you follow Fine Coffee Club on Facebook, you'll be the first to hear about their discounts too.
From the Nespresso website capsules seem to cost around 29p each, but they sell for as much as 60p on Amazon - not sure who'd buy that though!
The Good
For me, I love that they provide an alternative to Nestle pods for people who already own the machine
There is absolutely nothing wrong with the coffee. It's delicious and most people would probably not be able to tell the difference, especially if they don't actually drink or own the original pods.
They're a lot cheaper than the original pods, so are a good cost saving option
The Bad
True aficionados may not be easily pleased.
The Verdict
Personally, I'd be very happy if I visited either of my friends and was presented with these pods. If I were a Nespresso machine owner, I'd probably keep these pods on hand for when a house full of friends descended on me. If I were that way inclined, I'd keep the original pods for those who love them, or myself, or a 'decent' event like a dinner party or my best friends. Love my friends to bits, but I'd probably use the cheaper pods for high usage days. This mummy's not made of money!
I love my coffee, and as long as it doesn't taste like dish water - which these don't - I'd be perfectly happy with saving a few pennies along the way too.