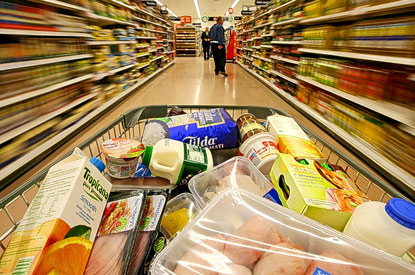 I'm talking about the good old cash and carry, also known as a discount warehouse. Buy food in bulk and you'll save cash. Or that's the theory. The most well known cash and carry chains in the UK are Makro, Bookers, Costco, and Tradex.
There are also an increasing number of specialty wholesalers. Such as Suma,  which specialises in organic, fairtrade and vegetarian.
These are the sorts of places where your corner shop gets its stock from. So the idea is that you get your stuff without the retail markup. But, does it work in practice?
Membership
First off, these wholesalers don't just sell to anyone off the street. You need to get a membership card, and membership varies a lot between the different wholesalers so you're going to need to contact each store individually. Generally you need to be involved in a business or own a business. Some also give cards to charities and organisations like sports clubs, PTAs, and youth groups. Do you know someone with a card? You can use theirs, or if you know them well, see if they'll get a second card for you (this is possible with some of the wholesalers).
Some charge a membership fee, while others ask for nothing to join. You may even be able to simply get a day pass. You'll need your card to get in and shop, and you'll need to present it again at checkout. There are two other differences between these places, and your supermarket. Prices displayed do not include VAT (so may not be as much of a bargain as you thought) and, you may need to provide your own bags.
Suma has a minimum purchase amount of £250. It is aimed more at co-operatives - groups of people, usually from their local community, who band together to bulk buy.
Do you save?
Once you can get into one of these places, will you actually save money? First, make sure you've got the storage space. Unlike my grandmother, I don't have a larder. And our garage and under-stairs cupboard is already full of rubbish, I mean precious memories. So I'm limited in what I can accommodate. And I don't want to line my hall with giant tins and pallets of kitchen cleaner.
Next, make a shopping list. All the Play Pennies parents that I talked to were adamant on this one. You're only going to save money buying in bulk from a wholesaler if you make a shopping list, compare prices with the deals in your local supermarket and pound stores, and stick to that list. As Sarah found out. "I have a Costco near me. But whenever I go in, although I probably save overall on buying in bulk for the things I went in for, I always end up spending more than I thought I would. So I don't go in any more."

Fiona also had a similar experience. "The temptation to buy things you wouldn't otherwise have bought because they're on special can be a false economy - but what do I know, I bought 4 crusty rolls for 32p rather than 2 for 30p, and only managed to eat 2 before they went rock hard!"
Making sure you do get a good deal when bulk buying takes a bit of hard work. As step-mum and step-grandma Kat explains "I shop at a cash and carry for certain things. Cat food and frozen fruit, individual snack packages (because that's how hubby prefers it), fruits and fresh meat (but I always compare it to what's on sale elsewhere), office products, some cleaning products (dishwasher tablets are dead cheap). To make it worthwhile, you just have to be aware of average prices on things, how long will it last, how much will you really use etc. I would say that what I do buy there, I save on."
Value brands vs Bulk buy
If all you're looking to do is save cash, then a wholesalers might not be the best option. Supermarket value brands may well be a lot cheaper. Looking to cater for a school fete, I found that the same amount of paper plates were half the price at ASDA than they were at Makro.
Terri is definitely in favour of sticking to a list and checking against value brand prices. "I always do a shopping list now. I save loads of money. Yesterday I got spaghetti, 12 rolls, crumpets and butter for £1.61! Sainsbury's value is the way forward."
As Naomi points out, knowing what you can get at the wholesalers is key. "I've always bought supermarket brands, so much of what's on offer is not cheap to me, however, wholesalers occasionally do really good deals on cases of wine and cider. And as there seems to be no such thing as a cheap bottle of plonk in the supermarket any more, that's worthwhile."
Form a food group!

However, if you're going for more specialty foods, for example, then you can save a pretty penny. I personally prefer to buy organic and fair-trade where I can afford it. At Suma you can get a 3KG bag of organic and fair-trade white Basmati rice for £11.39 including VAT. That works out to a very reasonable 38p per 100g, when you compare it to the closest supermarket equivalent that's organic only. Tesco's organic Basmati rice is 31.4p per 100g. None of the four main supermarkets sell rice that's both organic and fair trade.
To shop at Suma you will need to form a food group. Which is also a fab way of getting together with your local community. The minimum spend for most parts of the country is £250. So if you've 10 people in your group, that's £25 each, say every three months. Not bad!

To find other types of specialist wholesalers, try looking on Food First, an online directory of the specialist food industry.
And finally
So what have your experiences been of bulk buying? Maybe you are still trying to convince the kids to eat their way through that stock of frozen vegetable fingers. Or perhaps you've halved your grocery bill by stocking up the back of the garage with cans of food and giant packets of toilet paper. Share your experiences here!