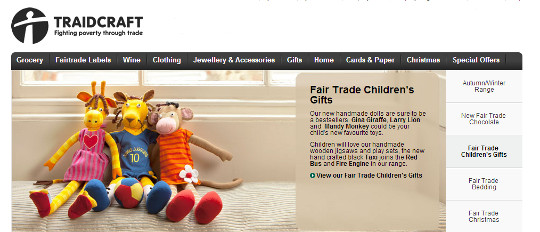 I'm sure we've all seen the Fairtrade symbol on coffee, chocolate and a few other bits and pieces, but did you know that there are also a whole range of toys and gifts? You can fulfil every gift-need you have from the Traidcraft catalogue and help fight poverty in some of the poorest parts of the world at the same time. Traidcraft was established in 1979 as a response to poverty. They are the UK's leading fair trade organisation and run development programmes to help transform lives and they campaign in the UK and internationally to bring about trade justice.
I was actually really surprised, browsing the catalogue, to see exactly how much, and what a variety, of products are available through Traidcraft. I've seen the chocolate and coffee stands at churches and fairs and so on, but didn't know that they did clothing, toys, home décor, paper, and a whole lot more. We were sent a couple of toys - a doll and wooden puzzles - to review. These were the perfect gifts for my three year old and my six month old.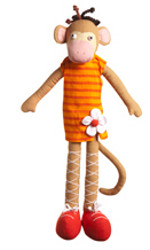 The Farmyard Jigsaw (£12) is a three-part, 9-piece puzzle, in otherwords it's three animal puzzles - a sheep, pig and cow - that each break into 3 pieces. It's perfect as a first puzzle for a little one, and is really good quality. These toys are made in Sri Lanka, providing employment opportunities for disadvantaged young people, often with no educational qualifications. The thing that struck me with this set is that it's perfectly usual. It's not unique and not spectacular. This is both a positive and a negative - negative because you wouldn't walk past ELC to get to it, but positive because by buying from Traidcraft you're getting similar quality and know you're supporting a good cause.
I couldn't find any information on things like paints used, and so on, but it does say that they conform with the essential requirements of the applicable EC directives. I'd assume this includes non-toxic, child friendly paints, but it doesn't specifically say that. The pieces are a good size - my baby sticks them in her mouth, but there's not much chance at all of it going in too far, so I don't see it as a choking hazard. She can't really 'build' the puzzle yet, but she likes pulling it apart and playing with the individual pieces.
We really loved Mandy Monkey (£18) though. My toddler is really into dolls at the moment, and everything is named what it is - i.e. her teddy bear is 'Teddy', her Tigger toy is 'Tigger', her rabbit is called 'Bunny', so Mandy Monkey is called 'Monkey'. She is really lovely - a leggy forest friend at 40cm.
She's also from Sri Lanka, although a different project. Mandy has a hesian-like look, but is 100% cotton and stuffed with natural kapok fibre. Her lovely dress is removable, which fortunately my toddler hasn't figured out yet as she likes her toys to be bare! There's also a spare skirt and blouse that she can be changed into. Mandy Monkey is really beautifully made and is one of my favourite toys among everything we have. Mandy has another absolutely beautiful friend: Gina Giraffe. I'd definitely like to add Gina to our family too - she's so colourful and cute.
Admittedly these toys are a little more expensive than you might pay for similar things elsewhere, but again, the money goes to such a good cause and helps families stay alive in conditions harder than most of us can imagine. I don't know... I just feel good whenever I see my daughters playing with their Traidcraft toys.
The Good
The toys are really well made. They are good quality and cute They are totally contemporary - there's a London Taxi and Bus toy I have my eye on too. There's so much variety to choose from
The Bad
Well, there's no way to dress it up, really - these aren't budget toys. They're not the cheapest you'll ever find.
The Verdict
I love the Traidcraft range of toys, gifts and every day items. I love the range, the options and the feel good factor. I'm pretty sure I could find something for every person on my Christmas list.