When you have kids to raise you suddenly become far more aware of how important daily nutrition is and what it means for their growing bodies. Adults and children that eat their five a day are healthier, more active and are less prone to serious diseases. Also, children that eat their five a day from a young age tend to keep eating them as they get older and statistically are less likely to contract cancer as adults.
These are compelling reasons to strive for our five a day. However, life has a tendancy of interfering with our eating habits. When you're tired, busy and stressed snatching a pizza on the sofa is so much easier (and comforting) than spending an hour in the kitchen preparing a wholesome meal. It's a common trap but it can be avoided. Yes, you'll still have to do some hard work but only in short bursts.

What counts?
Fresh and frozen fruit and vegetables, as well as tinned or canned fruit and veg stored in their natural juices. For the latter try and avoid those that have added sugar or salt. Dried fruit, like raisins, cooked fruit and veg, unsweetened fruit juice and beans and pulses. These are all viable sources of your five a day.
So for those of you, like me, who had this vision of eating through an entire setting of fruit and veg every day, this should come as a relief. You're probably getting all or most of these anyway.
Tip: Potatoes don't count although other root vegetables do, so put those chips down now.
How much?
The NHS has a very detailed list on exactly what constitutes a portion of your five a day. However, a general rule is to go for a fist sizes portion of fruit and veg. The site Healthy Eating Made Easy recommends that kids from 2-6 have five portions, 6-12 have seven portions and teenage boys have nine portions a day.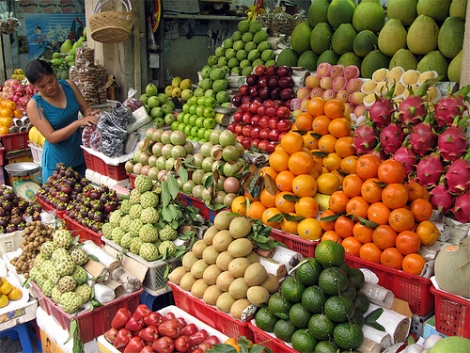 And on a budget?
It doesn't have to kill you financially to stay on top of your five a day, although most fruit and veg do end up eating quite heavily into the shopping budget. There are some cunning strategies you can adopt in order to keep those costs down. Stay on top of the times and dates your local farmer's market goes up and shop there. Often they are cheaper and you can buy in amounts that suit your household consumption. 

Consider buying loose fruit and veg, they are often cheaper than pre-packaged ones and less likely to be hiding a rotten friend at the bottom. Instead of buying your usual snacks consider swapping them with fruit or veg.
I know, the thought of saying goodbye to your crème egg and hello to celery isn't hugely appealing but you will soon feel the difference.
Stay on top of specials, deals and bulk buy offers at your local supermarkets. You can do this by registering with them to get email updates or by visiting sites like HotUKDeals to see what offers other people have found for you.
Try and take advantage of this when getting frozen produce. Frozen veg can store for ages, take seconds to cook and taste delicious. It's a myth that frozen foods don't hold the vitamins and minerals; in fact the reverse is true, especially for peas.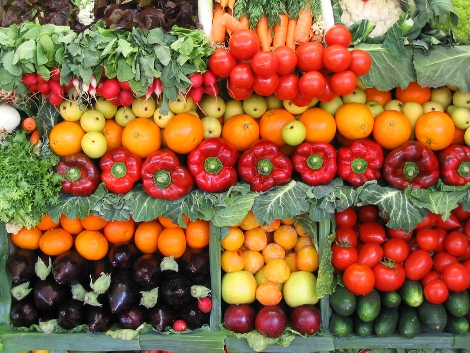 A great tip from the NHS is to pop all of your veg that are about to go out of date into a stew or casserole. A slow cooker is a cooking saviour for this. You do your prep in the morning (when you still have some energy) and by dinner time there is a luscious meal complete with half your five a day. And you can freeze what's left over for a comfort eating, lazy day. There are lots of great bargains on freezer storage containers at the moment so nab some of those too. Make the freezer your friend. 

Adopt a similar principle with fruit that's edging towards the dark side. Smash those bananas and, using wholemeal baking flour, make wholemeal banana loaves or muffins. You get your grains and your portion of five a day when you snack on those. You can also make them into smoothies or ice lollies.
This is a great way to get that fussy eater to munch down fruit he (or she) would avoid at all costs in its natural form. What child can resist an ice lolly?

Cooking in bulk is a good way to save yourself long term hassles. Set aside one or two Sundays a month where the entire day is about cooking easily frozen meals. The web is packed with healthy recipes to suit your budget.
It sounds like a lot of work, and for one or two days it is, but when you can just whip out a container at 8am and that's your entire dinner prep for 7pm it is SO worth it.
In a coming article, I'm going to be taking a look at cooking on a budget and I'll be chatting to all sorts of mums for their top tasty tips.