Butcher's BBQ Selection £39 @ Donald Russell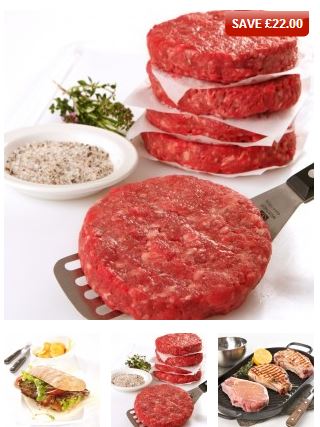 Meat suppliers Donald Russell have an introductory offer on their new Butcher's BBQ Selection box which makes this meat box £39.00 instead of £69.
We were supermarket meat eaters for many years, and always moaned about the quality of meat, how sinewy it was, and how the often grey-ish colour was somewhat off-putting.
One day we decided to try a really cheap (discounted) meat box, similar to this one, and we've never looked back. People often discount these meat boxes on the assumption that they're too expensive, but these days we eat a few meat free meals a week, and the rest of our meaty meals we thoroughly enjoy.
Donald Russell beef is 100% grass fed, and the pork chops and sausages have Freedom Food standards. The mini burgers are 100% steak meat with nothing added - you're not paying for breadcrumbs - and the sausages are 80% pork.
This box contains:
2 Minute Ribeye Steaks, individually packed (pack weight 110g)

2 Minute Sirloin Steaks, individually packed (pack weight 110g)

4 Pork Chops, bone-in (190g per chop)

8 Classic Steak Burgers, in packs of 2 (pack weight 240g)

8 Pork Sausages, in packs of 4 (pack weight 280g)

In our family that would make 8 meals, making it just less than £5 a meal. Our supermarket shop was normally £10 for three meats, making it just over £3 a meal and never anywhere near as good, even though it means we eat meat less regularly.