Aunt Bessie's Mixes Review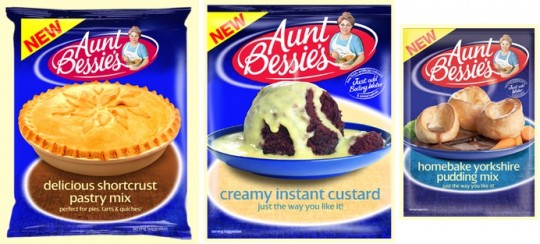 I never ever thought in a million years that one day I'd be writing a review of a yorkshire pudding mix. To be honest, I thought the only way they came was in a bag from the frozen compartment at the supermarket. Or a box.
Yet here I am, trying out Aunt Bessie's Homebake Yorkshire Pudding Mix. And not only that but also the Aunt Bessie's Delicious Shortcrust Pastry Mix and the Aunt Bessie's Creamy Instant Custard.
All powdery mixes, all from packets. No I didn't know that Aunt Bessie's did this either, but you do learn something new every day in this job!
Aunt Bessie's Delicious Shortcrust Pastry Mix
I find pies are good at any time of the year. They're fantastic and warming when the weather is cold. And when the weather is hot, you can make the types of pie that are just as tasty (if not tastier) when served cold. The best bit for me is that you make all the ingredients, stick it in the oven and that's it until it's time to eat the pie.
My pastry is rubbish though. It never works out right, get's too moist or too dry, and never, ever rolls properly. I end up squidging it out as best I can then sticking what I can on top of the pie and using the rest to patch up the holes.
So I was interested in whether Aunt Bessie's Delicious Shortcrust Pastry Mix (79p a packet at Asda) would be better. Making pastry isn't that arduous. It is essentially flour, milk, water, maybe sugar if you're making a sweet one. So using a mix only takes out a little of the effort in my opinion.
With this mix, you just add 8 tablespoons of cold water and mix it up. The first difference to what I normally do came around here - it suggested using a knife to start with, then your hands. I don't know why a knife, seems an odd thing to use for mixing but since my pastry never comes out right what do I know?
The packet says there's enough to line a 23cm pie dish. I have no idea how big the dish I use for pies is - not as big as 23cm though. Maybe I should have rolled it thinner but I only just had enough pastry for my dish.
Rolling was a lot easier and I did actually manage to get the top on in one piece, result!  And it tasted pretty good too, another result. My husband didn't actually notice that it wasn't my usual home made pastry (he loves my pies - well he says he does and eats all of them and seconds too!).
The good: rolls evenly, tastes as good as home made
The bad: nothing really other than the fact that it is still a prepared food
Overall verdict: 9/10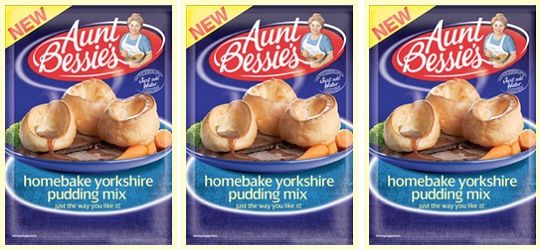 Aunt Bessies Yorkshire Pudding Mix
At Christmas time this year I discovered that you can buy boxes of Aunt Bessie's yorkshire puddings, ready to be baked. That is, they're made up like in little tin cups/containers, and you just pop them in the oven.
They take longer then the three minutes a frozen Aunt Bessie's yorkshire pudding takes to heat up (the ones that are pre-made and you pull them whole from the bag) but they taste even better. And I've never had a problem with the pre-made ones in the first place!
This is a whole step further back. Yorkshire puddings that you have to mix up yourself. Aunt Bessie's Homebake Yorkshire Pudding Mix (78p from Asda) doesn't take too much effort though. As with the pastry, you just add water. Even I couldn't get that wrong. Unlike the pastry though, which just has the basic four ingredients, there's a heck of a lot more in the Yorkshire pudding mix. Should I be worried about Sodium Aluminium Phosphate? Sometimes it is just better not to read the back of the pack.
It was dead easy to make the mix up, just add water. You're advised to put a little oil in the bottom of each well in your bun or Yorkshire pudding tin. I did this, but I think maybe I put too much in. The bottoms of my puddings didn't come out as crisp as I'd have liked.
It took 25 minutes in my oven to cook these, and when you're doing a roast and balancing all the other things (like the vegetables and doing the gravy) this can be a nuisance. It was also a bit hard to find a level spot somewhere in my oven to put them. Normally I just balance the frozen ones on top of whatever else is in there.
To be honest, I didn't find these Yorkshire puddings any better than the ready made (but not pre-cooked) ones I've tried before from the same range. However, they were more hassle. They're definitely nicer in both taste and crispyness (except my chewy bottoms!) than the pre-cooked frozen ones.
The good: delicious, taste fresh and crisp, a good price plus you can keep the sachet in the cupboard for a while
The bad: a bit of a faff to make them
Overall verdict: 7/10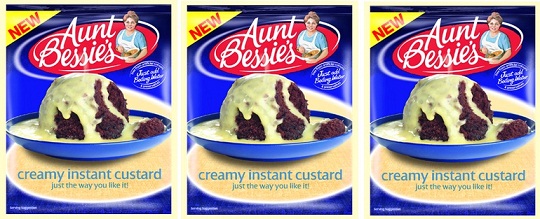 Aunt Bessie's Creamy Instant Custard
I love custard. I even make my own, from scratch. Don't get me wrong. I'm not a custard snob though. I always have a tin of custard powder in the cupboard and I'm just as happy with that. Or with it from a tin, or from a carton, or even from the basics range at the supermarket.
To put it simply, I just don't care. I love custard!
So the Aunt Bessie's Creamy Instant Custard mix was in fact the first of the three I tried. Although I'm reviewing it last. Again, you just add water. In this case, boiling water.
Now I don't mind making my custard with milk, or soya milk, or even oat milk (I loathe rice milk and goat's milk but if it came in custard I'd eat it). But not water.
And I'm afraid it just didn't work for me here either. I know there's skimmed milk powder in there. But the custard just didn't have a really custardy flavour for me.
This is a purely personal taste though. It was the easiest custard mix I've come across. And I did not only eat it all, but licked the bowl and the jug clean too.
It's just never going to be my favourite.
The good: it's custard! And it is dead easy to make
The bad: not the best custard flavour I've tried
The overall verdict: 6/10 possibly even a 7 as it is really so simple to make up.