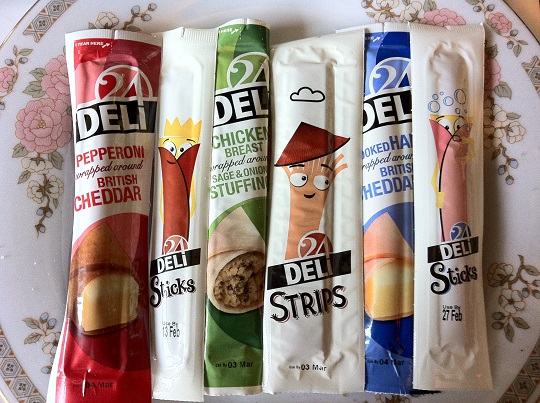 My son's primary school does the most gorgeous school dinners. They have fresh baked bread, a salad bar, crisp vegetables that are cooked just before being served. And he won't eat a bit of it.
The meals are so gorgeous that only a few children have packed lunches, but unfortunately his best friend is one of them. And since the packed lunches sit at another table, well, you can figure out how the rest of it goes.
Coming up with fresh ideas for food to put in his lunch box five days a week isn't easy though. And I expect that lots of parents have the same problem, which is why you've got products like this new range from Deli24.
So if you're looking for a meaty, cheesy snack for the kids, read on to find out how these fared.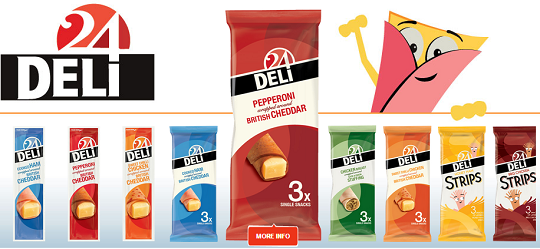 The first time I saw them they reminded me of Pepperami, which I actually really like. So I was quite disposed to like these too. I figured that they would be a sort of variation on Lunchables, and Dairylee cheese triangles, and those cheese string things that my friend's son loves. And in a way, they are.
According to the website "a Deli 24 stick is a great source of calcium, and is perfect for popping in their lunchbox or as an after-school snack. All the nutritional information is clearly marked on the back of each snack."
There are no artificial colours or flavours, they're low in sugar and high in protein. Even so you're not just getting, say, ham and cheese. These are processed meat products, and you're also going to be eating stabilisers like polyphosphates, and the preservative sodium nitrate, amongst other goodies.
I have seen a lot of reviews describing these snacks as a healthy option, and frankly, they're not. That doesn't make them bad, but just because something hasn't got any artificial flavourings, for example, doesn't make them healthy.
Just not so bad as other options out there. And if you know that your kid will like these, and eat them, then there's absolutely nothing wrong with using them. Just don't tick the 'healthy eating' box off on your list of foods you must get into the kids today!
We received Cheese & Pepperoni Sticks, Cheese & Sweet Chilli Chicken Sticks, Cheese & BBQ Chicken Sticks, Cheese & Ham Sticks, Sweet Chilli Chicken wrapped around British Cheddar, Cooked Ham wrapped around British Cheddar, Chicken Breast wrapped around sage & onion stuffing, Pepperoni wrapped around British Cheddar, BBQ Chicken Strips, and Honey Ham Strips.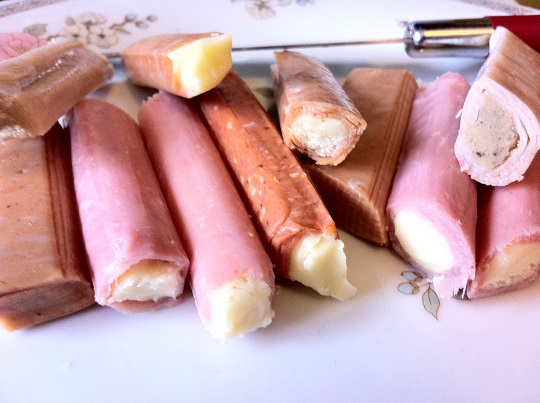 So a particularly good assortment then.
The Honey Ham Strips went down well with everyone in the family. A little oddly textured, but I put that down to not being used to eating ham as a stick. The younger testers all liked the Cooked Ham with cheddar, although I have to say I found it really unappealing as an adult. Both lots of pepperoni were liked by my husband, although I found it had an aftertaste a little like old socks, and wasn't keen on the mix of pepperoni with cheese.
All the adults rather liked the Cheese & Sweet Chilli Chicken, the two flavours were rather odd together, but worked. A slightly sweet tang.
And that was pretty much it. No one in the family liked any of the rest of them. I tried them out on visitors too, and found that the Cheese and BBC chicken sticks went down well with most of the children. But there was universal agreement that the Chicken Breast with sage & onion stuffing should never, ever, be allowed to exist. Ever.
Pros: a good size for a lunch box or snack, appeal to children with colour packaging and easy way to eat
Cons: processed meat and processed cheese, lack flavour
Overall verdict: 5/10