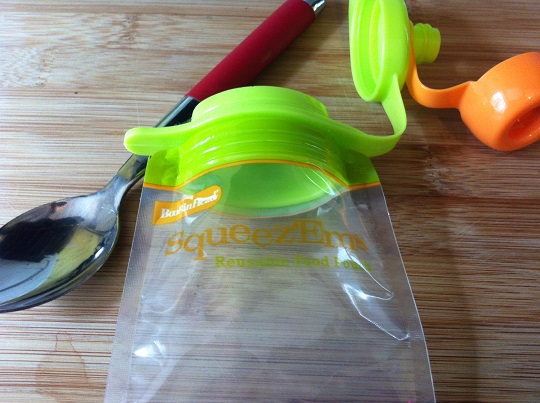 This is one of those so obvious ideas that I am kicking myself for not thinking of it. A Squeez'Em is a re-usable pouch that you can fill up with your own smoothies and purees. Which is great if you're like me and prefer to make your own where possible.
For various reasons, I can't eat a lot of processed foods, and it makes me really aware of what my son eats. That's because I have to read all the ingredients. Trust me, if you do that on a regular basis you soon start to look at food differently.
My son is eight years old now, and there's a lot of healthy-ish foods available now aimed at his age group, in squeezy bags. I like to opt for these and drinks because it is much easier to transport them if you are out and about, and if you have to carry your rubbish about with you they take up a lot less space.
What are Squeez'Ems like? Are they worth the money? Read on to find out.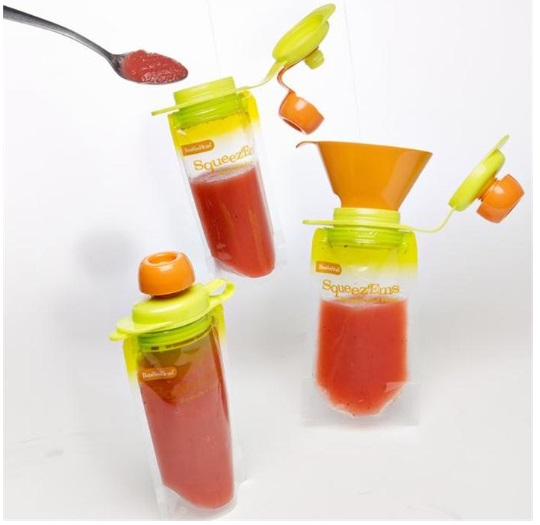 A pack of 2 Squeez'Ems reusable food pouches costs £5.99. The Squeez'Ems are free of BPA, PVC,  and Phthalate. They are also dishwasher, microwave and freezer safe.
Now I only got this quite recently, so I haven't been able to give the pouches a thorough testing. We also do not have a dishwasher or a microwave.
My son only likes fruit smoothies. No other puree type food so that's what we tried in the pouches. I have to admit I was keen for them to work as it occurs to me that these would be very useful to take away on holiday, for use abroad, or while camping, or on long car journeys.
You fill up the pouches with a spoon. A funnel is show on the photos and packaging but this is sold separately. To me it might be easier to use a funnel but it adds to the overall clutter. You don't need it and I found that the opening is wide enough to use the jug even without a funnel. No spills!
I took it out on a picnic with me, with a wild berry fruit smoothie I'd made using crushed ice, blackberries, blue berries, and some banana. It was fairly runny and went into the pouch without any problems.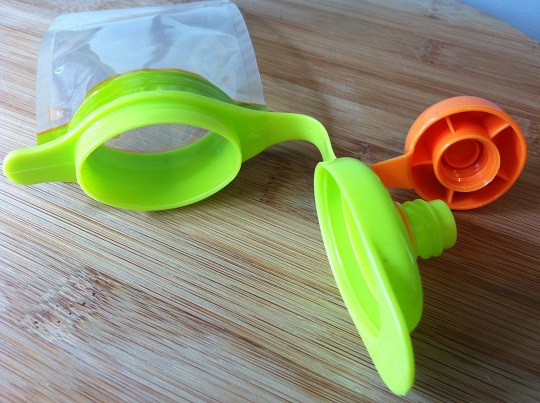 The pouch holds 4.2 ounces. The lid part is all one piece. So you pull off, and push on, the wider lid part. Then the top unscrews for drinking. This was a major plus for me as my son has a condition that means his fingers can't apply a lot of pressure, and many drinks with flip up lids are too difficult for him to prise open. He had no problems with this.
Cleaning wasn't a problem either. The directions say to fill with soapy water. I did this and the water swirling about cleaned the pouch. I wouldn't want to leave it too long though as it would be tough to scrub out anything that had dried on.
However, overall there are no impossible to reach bits, or nooks and crannies where food can lodge itself. So that's another plus.
Yesterday was my son's sports day. I froze a drink in the pouch and put it in his lunchbox. It was still icy cold at lunchtime, and it had been a surprisingly hot day. Very refreshing! Yes, I had some too.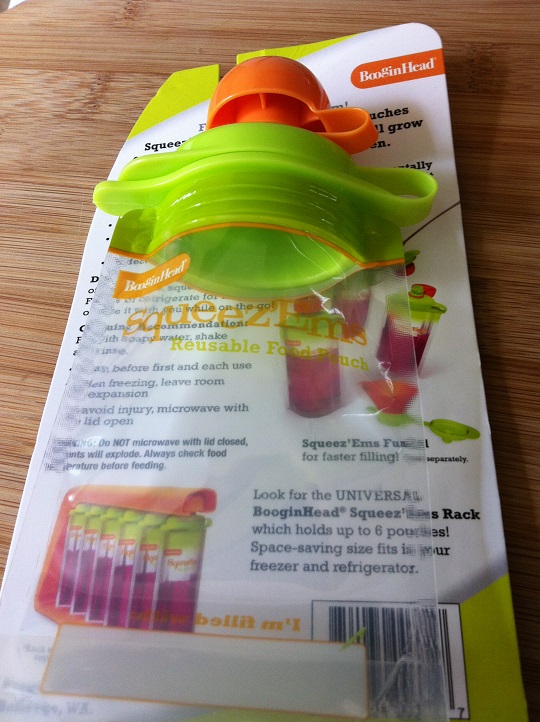 We've only used it twice but I am happy with the pouch so far. I think that at £5.99 it would be worth trying even if you didn't end up using it that often. Overall I expect it to save me money. It is a lot cheaper to make your own smoothie, or to buy the big cartons of it, than to get the small pouches of ready made stuff. Plus, unlike some smoothie cartons, there's no Mensa test involved in getting the straw in without spurting juice all down your front.
Pros: easy to use, excellent lid design, a good price
Cons: size is good for, say, a pureed vegetable dish, but a little small for fruit smoothies. Another ounce bigger would be great.
Overall verdict: 8 / 10 as I haven't had a really good try of it yet. I will come back and update soon!