Chedds Shape And Chedds Tower Snacks Review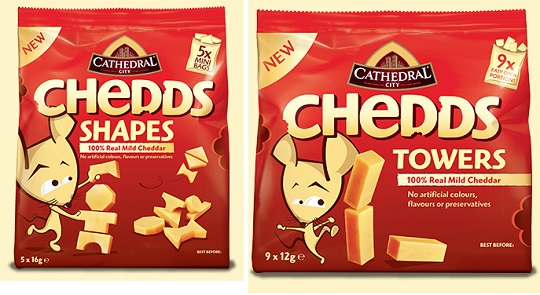 It seems like every week there's some new lunchbox snack appearing on the market. Something that is designed to be desirable enough for kids to want to actually eat, while claiming to have enough nutritional kudos to appeal to the parents packing the lunchboxes.
The latest of these are two additions to the Cathedral City range of Chedds snacks.  Do kids like them? Are they really nutritionally beneficial? Or just more processed rubbish? Read our review to find out!
Chedder Shapes
There are five mini-bags of cheese in each bag of Chedds Shapes (£1.99). Chedds are, according to the packaging, 100% real mild chedder. Now I'm not a huge fan of Cathedral City cheese I'm afraid. I find its fruity overtones a little too strong for my liking.
The Chedds Shapes, and this goes for the Chedds Towers too, is a little different. The cheese has a much more mild flavour, and while I now find it bland, I wouldn't say it is offensive.
The packs are promoted as a healthy snack with each mini pack containing at least 24% of the RNI of calcium for children aged 7-10 years. Now as part of an overall packed lunch, I would expect this is fine. I'm not overly fond of teaching children to like processed food though.
This being the summer holidays, we took our packs on a picnic. And here I found them perfect. I tipped mine into my salad, my son gave his to his friend as he hates cheese, and his friend happily ate both packs and declared them yummy (followed by a thumbs up).
Neither my son nor is friend were remotely interested in the fact that these are shapes, and you can use these shapes to make bigger shapes. Maybe it is because they were taught not to play with their food, or more likely, it was because eating was just what they had to do before they got on with the serious business of playing in the playground. I suspect that this will be the case at school too.
Pros: a nice tasting cheese, not bad value at 40p per pack
Cons: don't see the point of the shapes?
Overall verdict: 9/10
Chedds Towers
There are nine individually wrapped Cheddar blocks in each bag (£1.99). At 22p each that's not bad. Each bar is 12g.
The cheese is much the same as that found in the Shapes, and likewise, reasonably pleasant and not offensive. I did find these blocks a little unpleasant on the texture - it just isn't my thing.
Otherwise I would say that if you want an alternative to cheesy string, or Dairylea triangles, then this is it. Definitely a step up health wise over the string stuff!
Pros: nice tasting cheese at a good price
Cons: I didn't like the texture, it came across as too processed to me
Overall verdict:  9 / 10