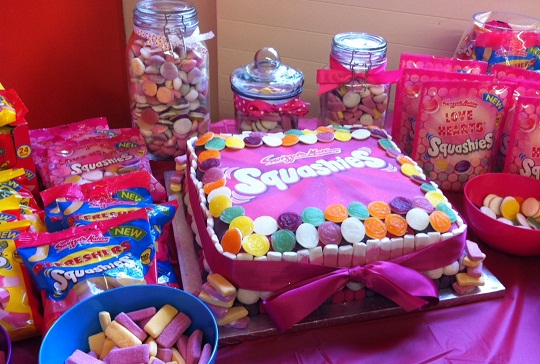 There's a new gummy treat in town, and I almost hate to admit it, but they're better than those other sweets that start with an H and end with an O. And that's a Big Thing for me to admit because frankly I love all those little empty calorie gummy treats.
But it is like someone took all the bits I loved the most, like the Fried Eggs, and then got all the flavour you get in, say, a Fruit Pastille, and put them together into one, delicious, perfect, gummy, sweetie.
These are Swizzels Matlow's latest offerings - Squashies. A gummy version of their best selling sweets. So you can get Squashie versions of Drumsticks, Refreshers, Double Lollies, and Love Hearts (£1 for a 160g bag at Asda*).
My favourite has to be the Drumsticks. How do they get so much flavour in there? My disappointment, but only slightly, was with the Refreshers, as the squashie version lacked the same sherbet tang of the original.
Swizzels Matlow make cheap sweets, but they don't lack on quality. It is the only family-owned company left in the UK making sweets, so that's another reason to like them. And also, with the exception of a few toy-type items, everything is made in the UK. So you can feel good about supporting British Industry too when you buy your next packet of Love Hearts or Fizzlers.
My final gripe is why no squashie version of Parma Violets? That sparked off quite a reaction at the party. Who knew that sweets could be controversial? Amazingly I seem to have found the sweets version of Marmite. Parma Violets. Either you love them or loathe them. Which one are you?