Sistema Food Storage Review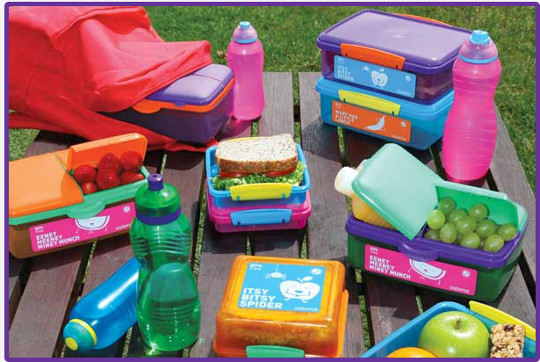 A lunch box is a lunch box, is a lunch box, right? Well, turns out not. I received a couple of items from the Sistema range to review, and I am sold.
Sistema comes from New Zealand, but the name is Italian for 'system' and that's what Sistema provides – a fabulous food system.Sistema food storage containers come in four categories:
The Klip It,storage range features a compact stacking system with half, quarter and split sizes to create clever space saving forms. It is ideal for organising busy kitchens and provides a comprehensive food storage solution.
The To Go set features handy containers to keep ingredients separated until they're ready to eat. The set comes with an easy to assemble knife, fork, spoon and chopsticks as well as a fully insulated lunch cooler bag
The Microwave Kit is a 100% lead free virgin material, and it has the option to add water to the base container, so that you can steam food in the tub.
Klipo is a range of containers for anything from food to jewellery or pencils or anything else. They have easy to open hinged lids.
We were sent a container from the Lunch set, and a drinks bottle from the Hydration range.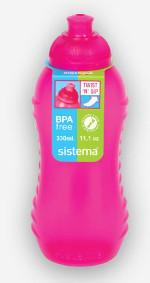 The Lunch container is awesome. I still hate tomato on bread, to this day, because we often had cheese and tomato sandwiches for school lunches, and by the time you actually got to lunch time, the bread would be a soaked, mushy, disgusting mess because of the tomatoes.
With the 'Itsy Bitsy Spider' lunch box, that would never have to be a problem again. See, this cubed box opens up to reveal two compartments – perfect for your tomato and cheese – or perfect for additional snacks. They're great portion size indicators too, for example you could fill one part with crisps and another with a healthy snack or whichever: the point is, they're separate. You then have, in the 'lid' a whole extra section for sandwiches. It's totally brilliant and innovative, I think.
Practically speaking, this is a 1.4 litre container, it's stackable, and freezer safe (perfect if you wanted to put stew in the top and rice and herbs in the bottom – especially because... ) it's also microwave safe. Then, dinner eaten, you can pop it in the top drawer of the dishwasher. Bonus.
Seriously though, it's fantastic. I can't imagine why these things weren't around when I was a kid. Or maybe they were, and we just didn't have them, either way I'm glad to have them now! I think these are great for toddler snacks too.
We also have the 330ml Twist and Sip Squeeze Bottle, which is a patented design for Sistema. It basically offers a way to open the lid and drink without touching the actual twisty spout bit. That's pretty cool when you're sharing drinks with a toddler, actually. It also means there's no pulling on the spout with grubby hands. Fabulous.
The bottle is made from a very thin BPA-free plastic. It's not suited to hot drinks, I don't think, because of how thin it is, but it is freezer safe, so you could freeze drinks in it too, which can be handy in the summer.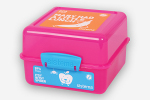 It's quite hard to write a review about a drinking bottle. It keeps wet stuff, and it has a cool twist lid. Not much else to say really. I haven't found it to leak, and my daughter loves the very bright pink colour.
Sistema kits can be bought at loads of major retailers like Tesco, Asda, Ocado and so on. You can also find it online, for example at Amazon, where the lunch box* costs £4.95 and the drinking bottle*costs £4.95
The Good
It's such a good idea! Practical, sensible, useful. I love it.
I think it's a really good price, especially the lunch box
The water bottle is a bit thin for me, I worry about it's sturdiness and how long it will last, but I don't have any evidence that it wont.
The Bad
The water bottle isn't dishwasher proof and I haven't tried it in there either. I'm concerned that if I tried, I'd ruin it.
The Verdict

I'm sold on this stuff – especially the food storage. I'd buy these for my children's lunches, and I'll probably buy a couple more for use with snacks and so on. They're brilliant. I love it. Worth every penny. The bottle is fine, not my favourite, not the worst ever used, but fine. The lunch box is fantastic though.