Little Ollie Personalised Children's Items Review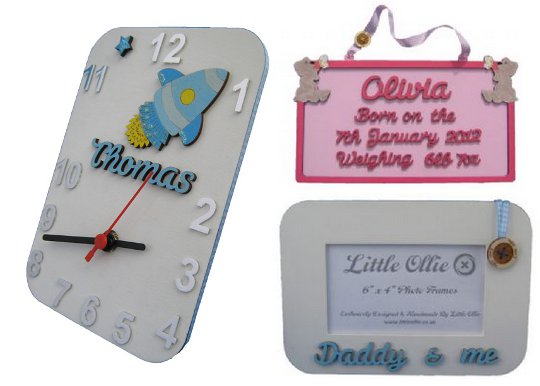 There's just no end to what's available for children these days, but statements about there being more now than there was when I was a child just make me feel old. There are so many beautiful ways of commemorating and celebrating children and childhood, and Little Ollie is one such a company making beautiful hand-made products.
Little Ollie Handmade Gifts is a husband and wife team with many years' experience within crafts and bespoke furniture making. Their products are hand made to order, and nothing is mass produced   - with the exception, I expect, of the electric bits for the clock.
Little Ollie have a selection of themes to choose from, including Sail boat, Space Rocket,  Cupcake, Butterflies, Pirate Ships and Transport,  Fairytale and Hearts. Personalised gifts include a money box, photo frame, clock, decorative wall hangings and announcement plaques.
We received, for review, an announcement plaque for our recent new addition, and a clock as a big sister present for our two year old.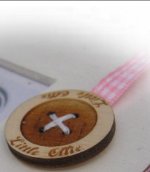 For my baby, we received a pink plaque with her first name, and "Born on the 13th March 2012, Weighing 9lbs 6oz" 'written' in beautiful carved cursive letters, glued on to a pink wooden background with a darker pink wooden frame. For decoration there are two carved teddy bears  blowing kisses at butterflies on either top corner of the plaque.
Surrounding the entirety of the board is a thin strip of ribbon, which nicely finishes off the edging and matches a much wider ribbon that attaches to the backboard to act as a hook. This too is decorated by a "Little Ollie" engraved wooden button. It is exquisitely sweet and cute in its conception and execution.
Because it is glued on, I suppose that there's a chance that parts could come off, so Little Ollie do warn on their website that these are not toys and not suitable for playing with – not that you'd want to. They are truly lovely decorations, gifts and make a very unique plaque for your baby's memory box.
There really aren't any bad points to the Announcement  Plaque, but if pressed to mention one, and looking through a magnifying glass, the only negative would be the occasional dots of glue that show up under the lettering – but I'm really scrutinising the item to even notice it. With it hanging on a wall in your baby's room, you wouldn't see it.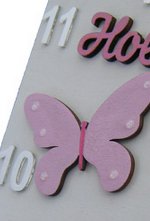 For our daughter we selected a personalised butterfly clock to match the décor in her bedroom.
The first thing that struck me about the clock was that the rectangle shape meant the distance between the 10 and 11 and the 1 and 2 were much greater than between the rest of the numbers. I was worried this would affect the length of time it took for the hand to move between them, but upon spending – way too much – time actually looking at it, I realised that it didn't affect the correlation of the actual time to the clock time at all. In other words, it all works fine!
The cursive writing of my daughter's name is as beautiful as that on the plaque, and the butterfly as beautiful as the teddy bears. The clock is also finished off with the bias binding, and the stand is firmly attached making the clock secure and sturdy. The back has the same "Little Ollie" button on, and the clock comes fully fitted with a battery, so it's ready to be used immediately upon receipt.
I didn't think the numbering was quite as nice as the lettering. It didn't seem quite as finished off, but it's not a huge criticism – its not bad, it's just  not as good as.
My husband banned the clock out of the bedroom on the first night, because it does 'tick', so it now lives in the study, which needed a clock anyway.
Little Ollie also has a range of other items, and if they're all as nicely made and as personal in their feel and presentation, then they're definitely a company to remember next time you want a personalised commemorative gift.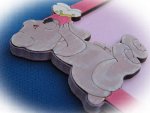 The Good
Well made and beautifully presented
Unique and highly personalised product
Very competitively priced
Customer service has been fantastic, in my experience
The Bad
The colours are rather stereotypically blue and pink – adding a few alternatives for those who prefer non-stereotyped colours would be great.
The Verdict
I think these are beautiful and very special. The clock will be in play for many years, because its feminine without being childish, I can imagine my daughter will love it well beyond toddlerhood. The plaque will eventually come down from the wall, probably to be replaced by some character or pop star or other, but it will find a safe and protected spot in the memory box, where it will remain as a cherished reminder of baby hands, tiny toes and the most beautiful of newborn days.