Momma Cup With Straw Review

Whether breast-feeding or bottle-feeding, there comes a time when you have to help your child start the transition to using cups, plates, spoons and the like just like the rest of us.
There are all kinds of products out there that supposedly help both with making the transition an easy one for junior, and with cutting down on spills, messes and the risk of exposure to germs and disease.
The Momma Cup with Straw (£5.99) is part of a range of drinking products – there are mealtime-based products and baby cutlery ranges too – that comprises the Cup with Straw reviewed here, a more basic Spill-Proof Cup which has a teat instead of a straw, and variations on both with dual handles. The Momma Cup here has the lid with a straw, but there are two other options which are interchanchangeable and can be bought separately.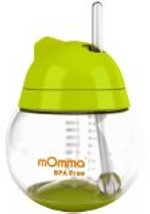 The Momma cup looks pretty cool. It has a sleek, funky design, and aimed at nine months and up, the Cup with Straw is supposedly designed to be easy for baby hands to grasp. The bottle part of the cup is almost completely round, save for a flat bottom barely 15mm across. The idea here is to actively encourage your child to explore the rocking motion this makes possible, in that doing so will stimulate development and growth.
No doubt at this point you're probably thinking it'll stimulate plenty of messes and spills too, but impressively that doesn't really happen. The silicon straw has a cross-cut opening at the top which only allows liquids through when it is squeezed, so you can happily hold even a full bottle upside down without a single drop leaking.  I'm not too sure how long that will be the case when baby starts ripping at the spout with teeth though.
The straw itself feeds through a swivel-top opening on the cup's lid. Turn this section of the lid and the straw will automatically fold away inside the lid for neat and more importantly hygienic storage, with the part of the product that comes into contact with your child's mouth neatly stowed away and unable to come into contact with surfaces. If you've ever had to dig a bottle out the bottom of your bag, you'll think this is a bonus too.
I'm not 100% sure I'd go along with the stimulation through rocking approach, simply because it's far too easy to rock the cup in such a way that it doesn't return to its upright position, at which point your child won't really be rocking it anymore, but more rolling it around, and potentially off a table or high chair. At least on the floor it'll stimulate crawling!
But beyond that, there's a lot to recommend the Momma Cup with Straw. It's reasonably priced and well thought out, and the In & Out Straw System that stores the straw within the lid is clever, and works well.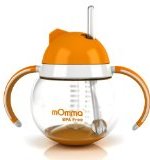 The silicon straw itself does a good job, and is both soft enough to be gentle on baby's gums and emerging teeth and firm enough to withstand a fair bit of chewing. The only frustration is that the way the straw anchors in the circular well around the base means it'll only draw liquid if tipped the right way when the bottle is nearly empty.
But that's one of very few minor frustrations in what is for the most part a good product overall and one well worth recommending.
The Good
The Momma Cup with Straw is a unique and unusual approach to sippy cups
It is easy to open and close - the swivel top becoming an entertainment feature to babies at the same time ;)
Due to it's rounded design, it doesn't topple over, meaning the straw bit stays clean
The colours are only orange and green, so it steers clear of stereotypical colours, which I like
It's not an overly expensive cup, which considering how we loose sippy cups is a big deal
It doesn't spill and leave masses of water in a puddle all around where your baby is sitting, unless they learn to squeeze the straw with their fingers, then there may be some spillage (so long as the lid is on properly, but that is true for all bottles and cups!)
There are interchangeable lids available, so if one 'teat' doesn't work for your child, you can try the others without having to get totally rid of the whole bottle
The lid is built in to the cup, so you can't lose it while you're out and about
The Bad
The baby can't always get to the last of their drink, which can be frustrating, but just means you have to fill it up again.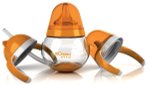 The Verdict
One size doesn't fit all when it comes to baby bottles and sippy cups, and unfortunately most of us end up having to try a few varieties of a thing till we find one that works. That's certainly always been the case for us, and we have a good variety. While my oldest gets on really well with a straw, for my youngest it's still a little frustrating, but she'll get there. For me, I just love that I don't have to mop up the floor after each drink of water.