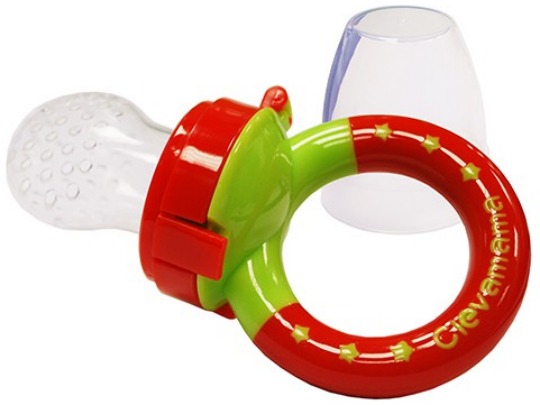 I have weaned two of my sons so far, and the time had come to start my youngest on solids. It's something I really enjoy doing, letting them experience lots of new tastes and textures. With my other two I went down the more traditional route of very thin baby rice/formula, then purees and then onto chunkier solids. Most of the newish parents that are friends of mine seem to be doing this new trendy kind of weaning. Baby Led Weaning or BLW.
Baby Led Weaning is all about encouraging your darling baby (at the World Health Organisation six month old guideline) to feed themselves right from the very start. It's about skipping the purees and the blitzing and freezing of butternut squash and other vegetables that babies spit back at us.
Right, back to the review. I had been talking to the other Playpennies girls and had mentioned how impressed I was that Daniel, my baby, had been feeding himself with a mesh feeder. It was then decided that Daniel and I should try out the Clevamama ClevaFeed™ .
Let me tell you a bit about the Clevamama ClevaFeed™ ... it was designed by mums, just like all of the products featured on the Clevamama website. It boasts about being the safest and most hygienic way to start the weaning of your child, whilst keeping the risk of choking to a minimum. To me it looks like a giant dummy soother, with it's large, perforated, silicone teat (it actually comes with two) and it's chunky plastic base/handle. It clicks open and shut with ease for the insertion of fruit, veg or whatever you desire to feed your little gem. As well as the extra teat, included is a handy travel cover.
Daniel was over the moon when I first handed him the Clevamama ClevaFeed™ weaning tool. We tried a banana in it, as I wanted to try it with the ultimate test. Bananas were a nightmare to clean in the mesh feeders we had been using, so I thought let's see how this compares. Well let me tell you, do NOT put too much in or it will squelch out through the holes like Playdoh hair. That was my lack of common sense to be fair.
Hand on heart, Daniel scoffed a whole banana through this Clevamama ClevaFeed™, and he has only just started on his Baby Led Weaning journey. I was impressed, and over the course of two weeks we tried lots and lots of various foods. Little Daniel managed super with everything I gave him inside the Clevamama ClevaFeed™. Raw fruit, cooked parsnips, carrots, broccoli and more weren't a problem at all. Although, the pungent pong from his nappies were.
Where can I buy one!
You can find your local stockist through the Clevamama website, or buy your Clevamama ClevaFeed at Amazon*
The Positives
The plastic "main part" and silicone teats are absolutely no problem to clean and sterilise. Daniel was able to eat easily from it and found it much easier to grip than his previous mesh topped feeders. Honestly, I went out and bought more of them from Amazon where they are currently £5.99 ( buy two for free delivery) click here to check them out*. Just incase I lose the one we have.
The Negatives
I am really struggling with this one. I did get a cardboard cut on my finger when I opened the packaging.
Seriously, I was totally bowled over with this weaning tool. Daniel stuck the whole teat in his mouth and gagged but that was down to gluttony and the misfortune of having a huge mouth like his mama. That's me being utterly picky though.
The Verdict
Wow! You can tell that it was a mum or mums that devised this wonderful invention.  It's much cleaner, easier and just more fun to use than other similar products on the market. I know that for some they will say that the Clevamama ClevaFeed™ doesn't conform completely to BLW rules because it's not handing the baby food to your baby' bare hand, but for me it's a safe and reassuring way of starting Baby Led Weaning.