Born Free Bottle Gift Set Review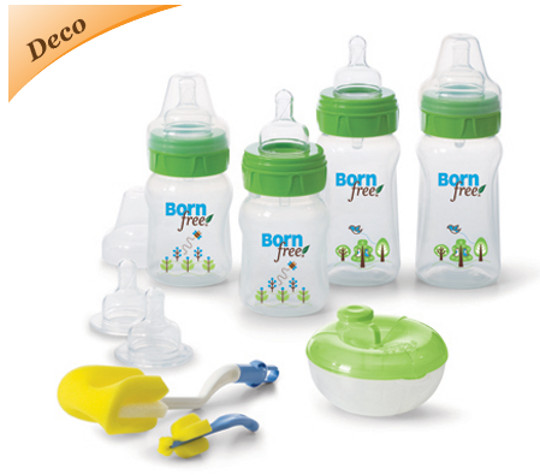 We were sent the Born Free Gift Set, a set containing four bottles, plus two extra teats, a three-compartment formula dispenser and a two-piece bottle cleaning set to review. Now, my youngest is 11 months old, and we never formula fed and never suffered from colic, so there are a few shortcomings in our ability to review all aspects of this gift set, but we actually own other Born Free sippy cups too, so I feel that we know enough about the brand to be able to give you a good and fair report of it as we work our way through.

In the gift set, the quartet of BPA-free bottles themselves feature green lids and detailing as in the picture and in keeping with the Natural Feeding image, but my formula dispenser bowl came with an orange lid rather than the green displayed – though Born Free does warn on the box that the colours may vary from those shown.
You get a pair of 9oz bottles (260ml) and a pair of smaller 5oz (150ml) bottles, which both feature easy-to-read measures in both ounces and ml on the side of the bottle for accurate filling.
Aside from their capacities, though, the four bottles are all about identical in terms of their fittings and attachments, with the only difference being the 5oz bottles are fitted with a Level 1 (0-3 months) teat, while the larger bottles have Level 2 (3-6 months) teats. We've not really used these very much as my 11 month old found the slow flow frustrating, but I can say that the teats on our other bottle lasted about 16 or so months of regular use before needing to be replaced, which wouldn't be an issue here, I don't think, because you'll need a bigger size teat well before it's likely to need replacing.
All the bottles come with Active-Flow silicone vents and covers, which Born Free claims reduce air ingestion and help extend breastfeeding by mimicking mom's natural milk flow. Most manufacturers these day go for the 'mimics breastfeeding' marketing these days though, so I can't honestly say it does or it doesn't.

The bottles all come with a plastic sealing disc that can be fitted to keep the top of the bottle dry while travelling, for instance, while the pair of extra Level 3 (6 months plus) teats help extend the life of the entire set without having to spend any extra money, which is a bonus.
Moving on to the formula dispenser, it is divided into three compartments each able to hold enough formula for a 9oz bottle, I believe, with the divisions between the compartments contoured to fit snugly with the dispenser's lid so they don't spill into each other. The flip-top opening in the lid gives you access to each compartment's contents (just slide the lid around for the next one), and all told the system is meant to keeps mess to a minimum.
The dispenser can come in handy for other uses besides storing formula when it needs to: the bowl's size is perfect for carrying around snacks, especially if you've got more than one type of snack but don't want them mixing together. It works fine for things like raisins, seeds or nuts.
Lastly, the bottle brush set comprises a large and a small brush, with the brush element itself made out of the kind of fine sponge typically used in your standard dishwashing sponge. The larger of the brushes suffices to clean the insides of all the bottles, with the smaller brush featuring a tapered end ideal for cleaning inside the teats.
That aside, though, there's little setting these brushes aside from most other bottle brushes on the market, but the fact that you're likely to keep these apart and only use them with your bottle set is probably the main benefit rather than any particular design strengths.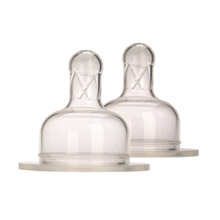 The Good
Born Free products are good quality and while the teats may need replacing after heavy use, the bottles themselves last pretty well
The designs are pretty
The bottle design itself is quite nice, and there's good 'grip' for little hands
They are also BPA free and PVC, which is almost a given these days, but still good to know
The products are dishwasher safe, which is especially nice when you move beyond the steriliser
As a gift it's quite nice that it comes with everything you need, including the brushes, so you have a self contained set
The Bad
I find the idea of marketing something as 'mimicking breastfeeding' but supplied with a formula dispenser a bit counter intuitive, and it does mean BornFree isn't WHO compliant, which doesn't matter to most people, but if it matters to you, you'll know why it matters. Unless of course you're combination feeding, then the help in preventing nipple confusion would be beneficial,  I suppose.
The Verdict
Overall there's nothing about the product itself that I can complain about. We used the dispenser for snacks and will probably pass the set on as a barely used gift to someone with small babies, so they can get full use out of it. The fact that I'm willing to gift it speaks for itself though. If I thought it was rubbish I'd probably use it for mixing paint or something, but it's worth passing to a friend, so that can be taken as a compliment to Born Free's Gift Set.