BecoThings BecoFeeding Set Review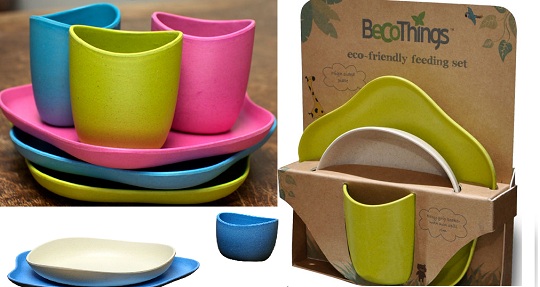 Becothings ,them of the BecoPotty and BecoStep, have brought out a new product: The BecoFeeding Set.
The BecoFeeding Set is an eco-friendly feeding set, made from natural plant fibres found in bamboo and rice husks. These are sustainable and durable, making them environmentally friendly and free from all the plastic related BPA and Phthalates.
This feeding set is available in three different colours, blue, pink and a very natural looking green.
The set consists of three parts – a plate, a bowl and a cup.
The cup is what they call a 'slim design', in other words it's not round, but actually oval shaped, with raised sides to avoid spilling. It is designed in this odd shape to make it easier for little hands to grip onto, which I can agree that it is.
The bowl has the same curved ridges, which is quite good looking, and could easily serve as adult cereal bowls too. It's quite shallow, which is good for little hands too as they don't have to be particularly much higher than the bowl to get to the bottom of it.
The plate is really lovely. It is in a flower shape, with the same high sides, although not as high as the bowl, which is great for providing resistance with putting things on a fork, rather than it ending up all over the table.
As with the other BecoThings products, this Feeding set is made from natural plant fibres, is ethically manufactured, and is biodegradeable, so it won't be in landfill when your little one's children have their grand children, which is always a nice thought.
From a practical use point of view, the BecoThings BecoFeeding set is top drawer dishwasher safe,  and it is food safe. It is not,  however, microwave safe, but then child and baby food shouldn't really be microwaved anyway.
The set is available from BecoThings, and a few other stores and RRP's at £11.99, which really isn't bad for the quality of the product you're getting.