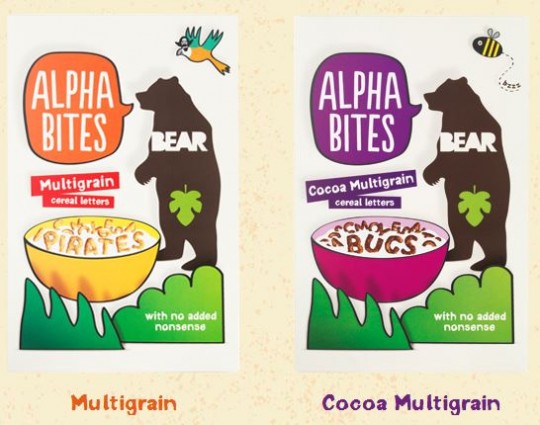 My daughter is a big fan of two things in the morning: toast or chocolate cereal. We've been through a variety of cereals over the last three or so years, and while she might enjoy a first bowl of something by the second or third day, she no longer likes it! It's very frustrating, especially when I end up with boxes and boxes of opened and then unfinished cereals. Even more so because I don't like cereals, they tend to just pile up till I throw them away. 
Bear Alphabites Multigrain Cereals have turned out to be different. When presented with a choice of either Multigrain or Cocoa Multigrain cereals my daughter predictably went for the chocolate version. In this case that was okay. Alphabites are sweetened, according to the website, coconut nectar which "has a low GI of 35 vs sugar (75) and honey (65), so it prevents crazy sugar highs and grizzly sugar crashes, keeping kids fuller for longer, and fingers out of the biscuit jar".
While they are slightly more expensive that other cereals at £2.69 at Waitrose, this is one of those cases where more is actually more. Compared to other cereals I found my four year old was fuller on these, and fuller for longer. If she has toast at 8am, by 10am she wants something to eat. If she eats a half a bowl of Alphabites, she might want an apple or something if we've had a busy morning, but doesn't ask for a meal or more breakfast or toast at 10am.
My favourite thing about Alphabites is that they don't get soggy in milk. I can't bare soggy gross slop in the bottom of the bowl when she's taken forever to eat and these really do keep their crunch. One morning I left the bowl on the table, ran her to nursery and went shopping. When I got home I cleared up, and had a bite because they still looked pretty firm. They were still crunchy! I was really surprised.
Alphabites are also great for dry snacks. Especially the chocolatey ones. We've packed them dry in a lunch box for mid morning snacks and when others were having bought crisps and sweets, my girls were quite happy with their dry Cocoa Multigrain cereal snacks.
The Multigrain is also a tasty and sweet breakfast, with the same sugar-free benefits, although it took a bit of cocoa in the milk to convince my daughter to try it.
All in all it's a nice breakfast and a better option than most of the rest out there.  Oh, and each box has a theme with a recommended craft project too, so you can use that for inspiration and find yourself spending a morning crafting too.