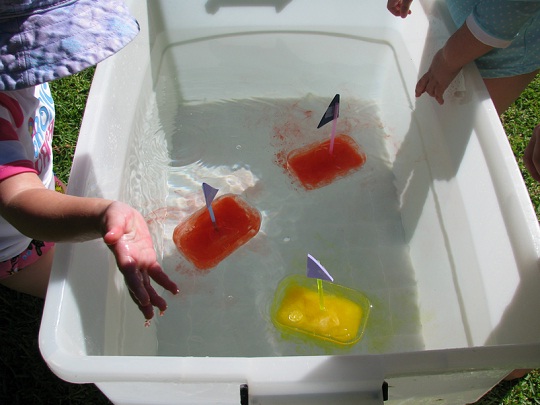 Oh yes I've been waiting to write something like this. And I feared I'd be waiting until next year! But according to the weather forecast the summer is coming. The forecast is for it to hit the high 20s by mid week. Which may mean it is going to get around 30C in some parts.
And it will be hotter by the end of the week. All of which means you're going to have hot little kiddies coming out of school. So what's the best way to make the most of what might possibly be our only summer? Here's some top tips from our PlayPennies parents (and random parents I asked in the school playground at drop off this morning).
Park, park and more park
We are lucky in that our park has a water play feature. The chances are high though that the council won't have switched it on. Even if there isn't water in your park, if there's a water fountain make sure you bring along water pistols for the kids. Then they can cool off.
It is lovely to be able to make the most of being outdoors. So for the mums I can't recommend this enough. Take a picnic blanket, a picnic for their tea, a good book for yourself, and find a nice place to sit under some shady trees. Don't forget the sun cream!
Sneak in more of their five a day!
Ruth has three boys, and uses the warmer months to get them to eat more fruit ad vegetables. She has a juicer, and either makes her own juice or buys fresh juice from the supermarket. Then freezes it in ice pop moulds.
"The boys think they're getting an ice lolly for breakfast, which is a fabulous treat for them. And they 'eat' fruit they wouldn't normally this way such as mangos. I've even done them carrot juice ones. Don't buy the concentrates, make sure it is juice you're getting otherwise there's no real vitamin benefit for them. Check there's no added sugar." says Ruth.

Make their own icecream
Two of our mums, Sheona and Kat, convinced me that it was well worth having a go at making my own ice cream. For three reasons: to save money; for the superior flavour and finally, because it is fun to make.
Sheona doesn't eat the shop bought stuff anymore. "I don't really like ice-cream that much, and where I live it is choc full of fabulous Italian ice-cream shops (there are at least four in our tiny town) so for me it's more about knowing what goes in it, and picking out the flavours. My other half is the one who makes it, and he seems to have fun."
The basic recipe for ice cream is milk, sugar, and some flavouring like vanilla extract, crushed mint leaves, pure chocolate, and so forth. Which cuts down on the additives my kids will be eating!
There are two ways to make your own ice cream. You can either use a machine, or not use a machine. There's a pretty good link HERE to making ice cream using a bag.
But, that's not the method that I've used! Oh no, indeed. I found this recipe here, which is an unusual take on the traditional tray in the freezer method and way more fun.  It is (cue trumpets) ice cream in a jar! The recipe worked well for making soya milk ice cream too.
Your garden and a hose
I'm not a huge fan of paddling pools, as I think they can get a bit mucky. But when there's not a hose pipe ban (and the one in our area at least has been lifted) the garden hose comes in handy.
Either use the existing sprinkler system for it, or get some hose accessories designed especially for fun in the garden. I particularly like the water slides you can get in places like Argos.
Water balloon fights are a good, fun game to play in your garden. You can do this too at the park if you're sure that your kids will be considerate of other park users, and that you're OK with picking up all the little bits of balloon afterwards (as otherwise it is just litter).
Go to the seaside
What? Go to the seaside straight after school, on a school day? But we don't even live near the sea.
Sometimes you just have to grab the moment. Most people in the UK live an hour's drive or less from a beach. If the weather does suddenly get stonkingly hot, then just go for it. Janice does this at least once a year.
Caroline, a mum to twins tells us that "it takes me just over an hour to get to the beach. I plan it in advance and take everything with me. Sure it is late when we get there but there's nothing so lovely has having your tea and pottering around on the beach in the dusk. It is such a magical time for children and I remember doing it with my parents when I was little. I love that I can give my kids that memory. I take their PJs and change them before the drive home. They're usually asleep in the car before we've been gone five minutes."