Tender Loving Care (TLC) is launching a new range of nasal care wipes, specifically created to be gentle enough for daily use on little noses. Available from Boots* with an RRP of £2.49, each wipe contains eucalyptus and menthol to help easy stuffy noses, offering relief from little sniffles. They come in a handy, resealable pack that's an ideal size for travelling. Gentle enough to be used on a daily basis, these wipes are billed as being designed to help sooth and moisturise the skin, making sore noses a thing of the past.
TLC launched in South Africa in 1997 and the company, which specialises in cosmetic, baby and health products for the whole family, has expanded globally and is now trading in Australia, New Zealand, Spain and, most recently, the UK.
I'd never seen wet wipes like these until a packet landed on my desk for review. I was sceptical about my chances of getting to try them out on my kids who, like most children, hate having their noses wiped or their faces cleaned. Using these wipes is a little bit counter-intuitive too, as they're bigger than I expected so it really does feel a bit like you're wiping your child's face with a baby wipe. And if you've ever tried to do that you'll know that it tends to result in lots of screeching and more than a little bit of skin irritation.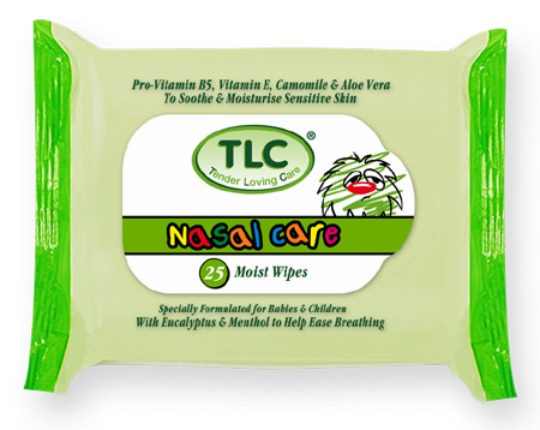 These are definitely different - I tried them on myself as well and you certainly don't get the stingy, sensitive feeling that you do from using a baby wipe on your face. I can only assume that the inclusion of pro-Vitamin B5, Vitamin E, camomile and aloe vera in the ingredients really does make them less harsh and more soothing than standard baby wipes.
I didn't find that the eucalyptus and methol ingredients did much to ease breathing or relieve stuffy noses - I'd still be inclined to use a pot of Vicks for that, or some soft menthol tissues, but I'd definitely pop a packet of these in my bag for solving sniffly emergencies in a hurry. They're indeed handy to have and if your child suffers from hay fever or allergies then you might find them especially useful.
At £2.49 per pack they're more expensive than tissues but since the wipes are fairly large (the size of a baby wipe, if not slightly bigger) you really only need one at a time, and I'd imagine that one pack of 25 wipes would last you quite a while.
Both of my children prefer using soft tissues on their faces rather than wet wipes - which is probably a throwback to their baby days when I used to accost them with a wet wipe to clean up the carnage after mealtimes,  so while I'd say that you can probably live without these and make do with a pocket sized pack of tissues, they are the sort of product that is bound to come in handy now and again, and which could well become a staple of your baby bag.
I guess mums managed without baby wipes before they were invented and now they seem practically indispensable, so maybe we'll be saying the same about nasal wipes in years to come.
Pros: Handy to have on your person in the event of an emergency attack of the sniffles. Gentler than a baby wipe, and definitely soothing for sore skin.
Cons: It's yet another product to pack in your baby bag, and if you're of a environmentally-conscious disposition then yet more disposable wipes (which aren't flushable, by the way) might not float your boat.
Verdict: 7/10