Following on from our recent review of the Omega-3 DHA dietary supplement from Nordic Naturals, we managed to get our mitts on a couple of items from their range of childrens' supplements, too.
I've tried out a range of different vitamins for children on my lads but it's always a battle to get them to take them, so I wasn't expecting a positive reception when I presented them with Nordic Berries. What I definitely didn't expect was that I'd have to hide the packet and fight off their efforts to overdose on them!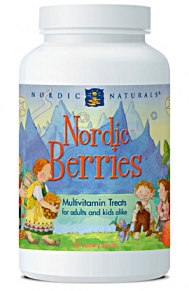 According to traditional Nordic folklore, trolls gather cloudberries found along the banks of the Norwegian fjord waters at twilight. Rich in vitamins, minerals, and antioxidants, cloudberries are said to have a delicious sweet-and-sour citrus taste. Nordic Naturals has designed Nordic Berries with this tale in mind. They claim to have captured the taste and benefits found in these berries to support growth and development for children ages 2+. With no artificial colourings, flavourings, or preservatives, Nordic Berries are a chewable, pectin-based multivitamin with a sweet-and-sour citrus taste and no artificial colourings, flavourings, or preservatives.
My boys loved their Nordic Berries and would happily brush their teeth in record time when issued with the promise that they could have their magic daily dose of a Nordic berry when they were finished. We didn'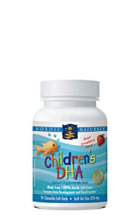 t take them for long enough to be able to report on their purported health benefits but if you're looking for a daily dietary supplement that children will actually enjoy taking, then this is worth a look.  They look not too dis-similar to a fruit pastille and are gelatin-free with no added colouring. Nordic Berries are available for £16.64 for 120 berries at Re-vital as well as from health food stores, pharmacies and Nutricentre.com. Alternatively you can call 0207 720 1441 for stockist details.
We also tried out the Nordic Naturals Children's DHA. Children's DHA is a rich formula of the omega-3 DHA in a strawberry-flavoured easy-swallow or chew form. It is made entirely from Nordic Naturals Arctic cod liver oil, essential for the proper development of the brain, eyes, and nervous and immune systems. DHA supports memory, mood, learning, and focus in children 3+. The product is supposedly a delicious way for children to supplement their diet with the essential brain nutrient, DHA. Molecularly distilled for purity, Children's DHA contains only naturally existing vitamins A and D.
This was much less popular with my eldest who didn't seem to like the plastic-like coating. He didn't mind the strawberry taste of the contents and was happy to chew the supplement long enough to get the goodness out but he insisted on spitting out the remnant of the capsule. His little brother, on the hand, lapped these up but I suspect that was because he thought he might earn himself a Nordic Berry if he was sufficiently compliant. Vitamins that children will do virtually anything for? They're a winner in my book. They're £18.16 for 180 capsules, also available at Revital.