There can't be many mums out there who don't take maternity leave. Whether you're a working mum or one who's opted to stay at home, maternity leave is the one thing few of us could cope without. Even those legendary women who have their feet firmly back beneath their desks within days of giving birth have to take a little time off, even if it's just long enough to do the deed.
But according to a recent study, fathers are increasingly getting the short straw when it comes to taking time off following the birth of a child.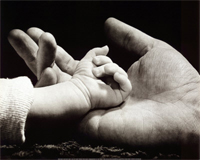 The report by the Equalities and Human Rights Commission, conducted among 4,500 parents in Britain, found that 45% of fathers don't take paternity leave.
Why? Because they feel they can't afford it.
Statutory paternity leave is currently paid for up to 2 weeks at a rate of £123 per week or 90% of the father's average weekly earnings, whichever is less. That's significantly less money than many dads make in a normal week, and you can bet your bottom dollar Wayne Rooney hasn't had to make do with that. Then again, maybe that's why he was back at work so fast, following the recent arrival of baby Kai.
Interestingly, the report found that many fathers do want to take paternity leave despite the financial hurdle, and feel they struggle to strike a balance between working long hours and having time to enjoy family life.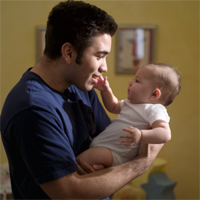 It's one thing for a father to choose not to take paternity leave, but quite another for him to feel that he doesn't really have a choice. A quick straw poll of fathers within easy chatting distance of my desk – ok, my husband - told me that those who had taken time off on the birth of a child had found it to be a profound experience and one they wouldn't have missed for the world.
So what can you do if you're a dad who wants to take paternity leave but can't afford the pay cut? We talked to Lisa Wynn, a Master Certified Life Coach and founder of Coaching for Dads, a coaching service that provides information, listening, challenge and support exclusively for dads and dads-to-be. Her advice is to plan your finances, and not just your family.
"In the happy chaos of planning for the safe arrival of a new family member most parents seem resistant to proper financial planning for the delivery. However in order to maximise paternity and maternity leave it is essential, and will ensure you have financially prepared for a reduction or loss of earnings during this time."
Lisa encourages couples to look at their current income and expenditure to assess how they would be affected if they took their desired levels of maternity and paternity leave. "By cutting some of their expenditure on less important items during the pregnancy, expectant parents can help to build up a small surplus to supplement the paternity leave period. As money is cited as the number one cause of marital arguments this period can be a great springboard for improving relationships," she says.
Sound advice. And here are our top 3 tips for making the most of paternity leave:
1. Save, save, save!
9 months can seem like a long time, especially for Mum, but one major benefit of the length of time a baby takes to make its entrance is the opportunity it affords you to get prepared – financially, as well as practically and emotionally. Use this time to put some money aside so that Dad can afford to be there. He won't get the time back! Work out the shortfall between statutory paternity pay and your partner's average salary for a fortnight, and use those 9 months to put that money aside.
2. Check your entitlements.
Make sure you're claiming everything you're entitled to. Investigate what you're entitled to in terms of child benefit, tax credits, working tax credits and maternity pay. Visit the government page on child benefits and tax credit for more information.
3. Talk to your employer.
Some firms have a policy on paternity leave that is better than the statutory minimum, or they might let the Dad-to-be use annual leave for paternity leave.
To find out more about paternity leave and what the expectant father in your life might be entitled to, check out this page on work enetitlements or call the ACAS Helpline on 08457 47 47 47.