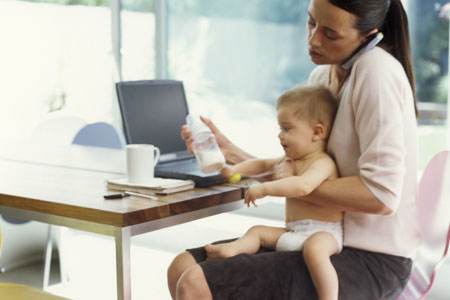 There is so much debate in the media about how to combine a career with being a Mum, and it can be confusing to know what's 'best' when making decisions about fitting work around family life.
The good news is that more and more Mums are finding creative ways to juggle earning a living with raising children. Indeed, if you're looking for flexible work that can be done part-time and even from home, there is a growing number of resources out there to help you create a family-friendly working life. The trick is knowing where to find them. So we've done the hard work for you and have put together a quick guide to some of the best sites and resources for working Mums.
Motheratwork.co.uk was founded by Denise Tyler, a mum and PR consultant who struggled to find answers to her questions about being a working mum when her daughter was small. Denise says:
"I was a self-employed working mother which is quite a tricky thing to juggle and I tried to find information and advice, not so much about facts like what I was entitled to but just friendly advice from other working mums, and I literally couldn't find anything so I thought I'd start a website and see what happens. It just took off and until then I had no idea quite how many women were in a similar situation who just felt a bit lost and a bit isolated."
The emphasis at mother@work is on helping Mums to ease into the transition between having a job and being a Mum. The site is packed full of resources, up-to-date information relevant to working parents and there's also a community element with a forum where parents can post questions or queries and get supprort and feedback from other parents.
The site covers everything from health matters, business issues and work-life balance advice through to tips about juggling work and home, and handling childcare issues.  "It covers pretty much the main aspects of a working mother's life but is relevant to all kinds of Mums, and Dads too," says Denise.
Help For Busy Mums is a site run by a life coach who specialises in helping mums to juggle their many commitments and responsibilities, and make time for fun, too. Founder Diana and her husband Steve have seven children between them, so she knows what she's talking about when it comes to being a busy Mum! She offers online (email and Skype), telephone and face-to-face consulations including a free initial consultation to find out more about her work and how she might be able to help put together a coaching programme to fit your time and budget. Drop her a line at diana@helpforbusymums.com if that sounds appealing!
Alternatively you can sign up for Diana's monthyl Busy Mums bulletin, offering time-saving tips and free online workshops that promise to help you stay on top of life.
3. www.familyfriendlyworking.co.uk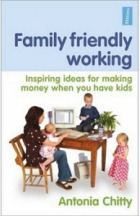 Family Friendly Working is run by Mum and PR consultant Antonia Chitty. Her site is aimed at mums who:
# ~ have a job, but feel fed up with trying to do too much in too little time
# ~ feel torn between work and spending time with your children
# ~ dream of being a mumpreneur
# ~ would love to find work that fits in with the family
# ~ are running their own business and want resources and support
Antonia's blog offers loads of helpful hints and tips for working mums and the Franchises and Party Plan Directory lists lots of family-friendly job opportunities
Antonia is mum to Daisy, 7, and Jay, 4 and baby Kit. She says  on the site: "It's not always easy running your own business and being a mum at the same time. I couldn't do it without my partner, David. We both find there are never quite enough hours in the day to do everything, and you may find me typing frantically in the train on the way to a meeting, making the most of every moment I get. But I wouldn't change the way I work. I get to spend time with the kids, choose my own hours, and be there for events at school. I have the flexibility to adapt if one of the children is sick. Work-wise, I get to choose a range of interesting projects, and still love what I do."
If that appeals to you, other sites worth checking out are www.workingmums.co.uk, www.jobs4mothers.co.uk, and  www.mumsandworking.co.uk, all of which list job opportunities suitable for mums.
4. www.familiesrecommend.co.uk

Sarah Sharp runs this innovative site that specialises in listing recommendations for families, by families. It's aimed at families who want to share a great experience of a family day out, holiday, club, class, venue, service or activity, as well as for families looking for honest information and real verdicts about those same things. While it's not a site primarily geared towards working mums, it's a great one to bookmark if you are a working mum, to help you strike that elusive work-life balance and plan some family fun for the end of the working week!
A Mum herself who impressively combines a day job with her self-employed role at Families Recommend as well raising a family, Sarah offers these top tips for managing your work / life balance if you're anticipating a return to work after having baby:
1. Give yourself time to readjust. I thought I could just go back to work and fall straight back into my old job, but being a mum makes you think different and act differently. Not only have you spent months (perhaps years) having conversations with your partner about nappies and chatting to your child, getting back to adult work conversations is great but can be strange. Add to this the tiredness and the guilt - it's a different you in the workplace.
2. Let people know that you have a child / children - most people understand that you have other priorities - such as leaving on time and looking like you've not slept in a week (which is probably the case). The more people know about your personal situation, I found the more accommodating and supportive they have been.
3. Generally going back to work (either to your old workplace or even your own business) you will feel guilty about it. We all feel it, but it does get easier.
Finally, do bear in mind that you are entitled to request flexible working hours

(including working from home, working part-time or changing your hours) if you have a child under 5 or a disabled child under 18 but you do need to give your employer plenty of notice so apply early, preferable while on maternity leave, and check out www.direct.gov.uk/en/Parents/index.htm for up-to-the-minute advice and information about your rights as a working parent.