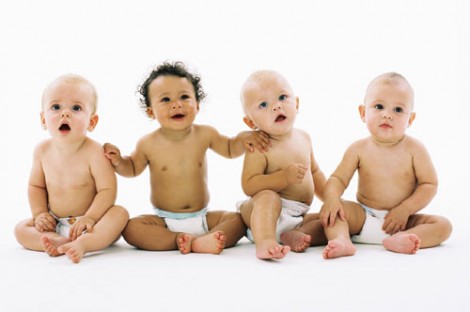 When you first fall pregnant it's a time of celebration, you're going to have a baby! It's magical and wonderful and amazing, until you start reading all the catalogues and magazines with their terrifying lists of all the things you need to buy. Suddenly it all seems very daunting and expensive.
It doesn't have to be. There are plenty of things that you can do to avoid spending too much money on unnecessary things and clever ways to cut corners on the essentials.
When you read anything that tells you "What to buy for your baby" take it with a pinch of salt. Many of these lists have been devised by manufacturers and advertisers that are all too keen to snatch away your precious cents. Here are just a few tips and tricks on how to save some cash while preparing for the big day...
Nappies and nether regions

You may want to consider abandoning the disposable and using cloth nappies , they work out a lot cheaper if you wash them wisely. If you're not interested in having buckets of dirty nappies lying about the house then why not consider a nappy service? They will collect dirty nappies, replace them with clean ones and provide you with the basics for a price that comes in several pounds lower than the cost of buying disposables. Not only that but you'll also be taking a hand in protecting the environment at the same time.
If you really loathe the idea of cloth nappies then try to buy your nappies in bulk and start getting them from the moment you find out you're pregnant. Every time your local retailer has a special, take advantage of it and stock up.
Don't bother with a top and tails bowl either. Just get two Tupperware dishes out your kitchen and some cotton wool. Wipes are handy for when you go out but otherwise save cash by using water and cotton instead.
Changing mat
This is one thing you will need but, if you're clever, you can merge buying one of these with getting yourself a baby changing bag. The latter is indispensible when you need to go out and usually includes a changing mat as part of the package. These are quite thin so you can soften them up with clean cotton nappies or a blanket when you're changing your little one at home.
Clothes
I can't stress the wonders of auction sites like eBay enough when it comes to baby clothes. Once you've been through your first year you'll realise that your child grows so fast that they won't wear the same clothes very often. Take advantage of this by getting tons of cheap clothes online. Watch the sales carefully and you can land a massive bargain. I netted 87 baby clothes, many with their tags still on, for £3.
Bottles (if you're not going to breastfeed)
Don't compromise on these and buy them from a reliable source. Boots has an excellent range that doesn't cost the earth.  While the name brands deliver great products, your child honestly won't care if they're not staring down at a famous logo. Also look into getting bottles that are not made from harmful substances, such as Bisphenol-A (BPA), and that are more baby-friendly. There are plenty of brands like this such as the range I reviewed the other day.
Steriliser
Again this will be very much a personal choice for you. Would you prefer to microwave or to soak? I went for the cheapest product available that offered me both options in one and it's still going strong today. Nobody cares that the name rubbed off at some point.
Blankets and toys
This is a good category to direct your friends and relatives to. They want to buy you presents to say congratulations and you need blankets, accessories and toys. Let them spend happy hours choosing the enormous pink elephant or black and white mobile that your budget can't stretch to afford so you can spend on those necessities you really want.
Car seat and pram

I strongly advise against buying a second hand car seat, instead look at getting a retail label pram that has one included. Mothercare do a range of prams that come with infant car seats that sit below £200 and work perfectly. You can spend £900 on a deluxe infant carrier system that does all sorts of fancy things but it won't make any difference to your baby.
Sleep equipment
In the first six months you can keep your baby close by in a Moses basket so get yourself one dirt cheap from eBay or completely free from your local freecycle network. Saving money on this will mean more money to spend on a cot later on. Once you've got it give it a thorough clean with antibacterial soap and get rid of the mattress it came with. A new mattress is mandatory. These you can get from most retailers that stock baby products.
As the time to move your baby into a cot approaches look at buying a cotbed that will last right up until they are six or seven years old. I also recommend getting a baby monitor. You don't need a heartbeat breath analyser, just the old fashioned variety so you can hear them breathing and/or crying.
Other Mums
Chat to your mum friends (and your mum!) to find out what baby items they honestly could not live without, and which items they have never, ever used. Compile your own list and get started. Don't forget to really hunt down bargains on your chosen products by looking at sites like our sister site HotUKDeals, or Google shopping or eBay.