Gwyneth Paltrow was recently snapped out and about with her children, Apple and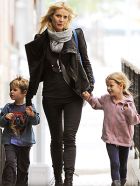 Moses.
Gwyneth recently spoke publicly about her experience of post-natal depression, and pulled out of her latest film in order to spend more time with her family.
And if that wasn't candid enough, she reportedly said this in an interview with Vogue about her tendency towards obssessive behaviour recently, too:
"Sometimes I think I'll have to check myself into a mental asylum, it gets so bad. I hate myself for it. It's like, what's wrong? Relax."
Yeah, relax Gwyneth. We think you sound refreshingly normal!