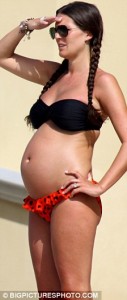 Expectant Mum Danielle Lloyd is blooming!
The glamour model and Celebrity Big Brother star is expecting a baby with fiance Jamie O'Hara, and the couple are currently on holiday in Dubai along with Danielle's parents.
Danielle can't hide her bump or her excitement about the arrival of her first child, and tweeted: 'Yeahhhh 6 months gone today. Not long to go till baby O'Hara gets here.'
The Daily Mail reports that Danielle recently confessed to craving corned beef hash and having a huge appetite during her pregnancy. If that's true  we reckon pregnancy must suit her because she looks blooming marvellous to us!
While Danielle Lloyd is happily showing off her bump, A-lister Beyonce seems to be intent on covering up amid rumours that she and husband Jay-Z are expecting their first baby.
Beyonce was pictured recently wearing some very short shorts. Are her efforts to show off her legs just a way of drawing attention away from her midriff?
Who knows. My money is on Beyonce having a bun in the oven and I might even wear a pair of denim hotpants myself if her people don't announce her pregnancy within the next few weeks.
All the signs are there; the denials from her publicist, the awkward pose with her hand across her tummy and of course the age-old show-off-your-legs trick when trying to hide a bump.
But only time will tell...