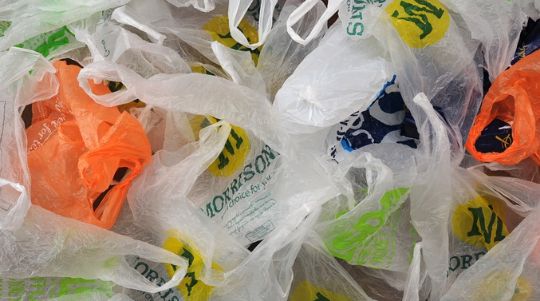 The 5p charge for carrier bags is already law in Scotland, Wales and Northern Island and as of 5th October it will also be law in England too. From that date all large shops will be required to charge 5p for single use carrier bags, in an effort to encourage us to re-use bags, cut down on waste and reduce the amount if plastic going to landfill sites.
All retailers with 250 or more full-time equivalent employees will have to charge a minimum of 5p for single use bags both in stores and for home deliveries.
Most of the money from the sales of single use carrier bags will go to charity, but what has annoyed some groups in England is that 1p for each bag sold will go to the Tax Office as VAT. One group, the Taxpayers Alliance has claimed that the new carrier bag charge will cost taxpayers £1.5 billion over the next decade, and add £67 to the cost of living per household in England over 10 years.
In England, the number of single-use bags issued by supermarkets stands at 7.6 billion for last year, and it is hoped that the new carrier bag charge will force a big drop in those figures, as has happened in the rest of the UK that already charge for bags.
I have already had my email from Tesco explaining the changes to my home delivery charges due to this new law, and the way they are implementing it does seem a little silly. They will add 40p per delivery for a carrier bag charge unless I select 'no bags' for my groceries home delivery.
So what do you think about the carrier bag charge? Will you be buying some reusables instead? And shouldn't our government be giving the whole amount to charity rather than taking a chunk back for VAT?