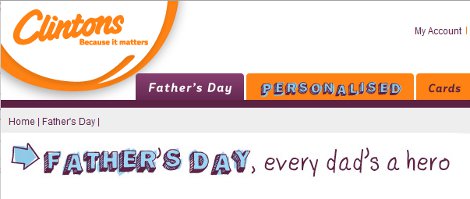 While Father's day doesn't seem to bring out the Hallmark moments, pastel posters and commercial overkill that mother's day does, there are still plenty of ideas around for how to treat dad.
Of course, one of the first places that comes to mind when I'm looking for little bits and pieces for gifts and cards is Clintons so we asked PlayPennies mum Tammy to review a selection of their Father's Day stock for us.
Tammy was sent a bell which says "Ring for Beer", an "I'm a Retro Dad" T-shirt, and a Mr.Grumpy mug.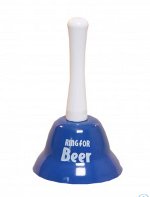 To get us started, Tammy shares her thoughts on the "Ring For Beer" bell.  "This is a small dark blue bell with white writing. It comes packaged in clear plastic and is rather good to look at."  That's a good start, as we generally like our gifts to be good to look at!
However, the joke was a little lost on Tammy's partner. "My husband is not the kind of man who appreciates this kind of humour so he glared at the bell a bit and muttered about male stereotypes. I have to say that I kind of agree but the point isn't really about philosophy is it? It is about the fact that someone could buy this for their other half as a cute little extra joke pressie. And for that it is very cute."
My mum had a bell she used to ring when we were kids. No matter where we were, we knew it was time to get home for dinner/bath/bed or whatever was next in the day. As did the rest of the neighbourhood, but this was life before mobile phones. At least it saves dad running around trying to find his kids.
"I don't know the price yet" – its' £3.99 -  "so i can't comment on that but it is well made, rather solid and has a pleasant ring to it. Once it was out the packaging our child adopted it until we both hid it to preserve our sanity. I then used it one morning to ring for coffee in bed, sadly this did not go down well."
And, as a final thought, Tammy says, "Ok on further investigation you can get Ring for a Cuppa which I think I'd like for Christmas please :)"
Next up is the "I'm not Old, I'm Retro" T-shirt, which you'll have to pick up in store.
"Like most Father's Day t-shirts," says Tammy "this one is sweet and pretty targeted".
She's pretty impressed with the quality too. "The fabric is good quality and not too thin and crap".
But it's not really her sense of humour. "I didn't get the joke about Retro Dad if I am honest. Well, I got the joke but it wasn't funny. Not my sense of humour at all. The husband refuses to wear it as it says he is old (that's what he says) but I reckon that grandpa's will dig it and so sent it on to my Dad from his granddaughter. He thought it was hilarious and wears it on Sundays to 'slooomph' around in".
Tammy doesn't get told the prices of items she receives, so she's guessing here. "If this is under £10, it's good value for money with quality stitching, thick material and a nice transfer that hasn't washed off and gotten all peely after 5 washes so far."
It's just £5, so doubly good value, by my calculations!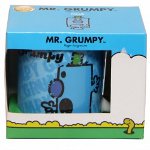 The final item Tammy received from Clintons was the Mr. Grumpy mug, which was a massive hit.
"A few years ago," she tells us, "I bought my husband a Mr Grumpy T-shirt which he loves and my daughter loves (especially now she is into Mr Men more) and when I whipped out the Mr Grumpy mug both their faces lit up in big fat smiles."
Tammy was really happy with the mug, and thinks the mug and T-shirt should come out as a set.
"The mug is cheap, dishwashes nicely and is big. I hate tiny little mugs that give you one sip of bloody coffee." Said, of course, in her best "I'm a tired mummy" voice!
Tammy's final thoughts on the mug? "This is a MUG and does everything very nicely. I think this is a definite winner for our house, especially with the low price." Which is £4.99. "Oh, and I see they also have Mr Happy mug, so I ask this - how did they KNOW my husband was Mr Grumpy? (HAHAHAHA)"
There are loads of other options for Father's Day, so check out the website, and if you pass one, pop in store too, and have a happy Father's Day!