Celebaby: Father's Day Photo Fest'
It's Father's Day tomorrow (you didn't forget did you...?) and so we're dedicating this Celebaby edition to the celebrity dads and their offspring.
I have a confession to make...I'm not a very mummsey person.  I love my kids but a salt-of-the-earth-mother-earth type, I'm not and those who are excessively cloying or proclaim, before their children have even started school, that their lives will be over when their little angel leaves home IRRITATE me beyond belief!
As a result, I rather like seeing pictures of dad's (celebrity or otherwise) with their kids as they don't seem to be quite affected by this strange reasoning, bring on the leaving home bit I say!
And THAT is  my excuse for having spent a fair few minutes searching through lots of pictures of some rather attractive celebrity dads with their kids....and I'm sticking to it, OK!
Happy Father's Day! (tomorrow, it's TOMORROW!)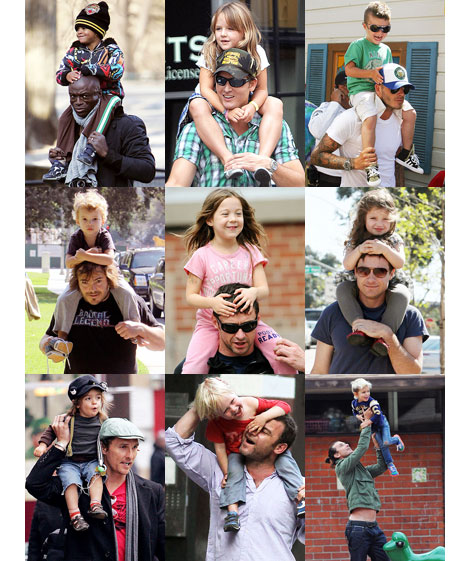 So from left to right and top to bottom we're drooling over looking at:
Singing legend Seal and his son Henry
Actor Peter Facinelli (Carlisle Cullen in the Twilight series) with his daughter Lola (7)
David Beckham with Cruz (6)
Actor Jack Black with his son Samuel
Actor Hugh Jackman with his lovely daughter Ava
Jason Bateman with his daughter Francesca (3)
Matthew McConaughey and his son Levi (2)
Liev Schrieber and his son Sasha (2 and a half)
Gavin Rossdale (Mr Gwen Stefani) and son Kingston (4)
They all look like they're having an awesome time and I'm sure we'll be seeing plenty of Father's Day photo snaps from them over the coming days.
IT'S TOMORROW! If you haven't sorted out pressies for these important men in your life then you'd better nip off to the shops pronto, you're beginning to run out of time!
(and just in case ayou were wondering, I DO find Jack Black curiously attractive in a strange kind of way....)