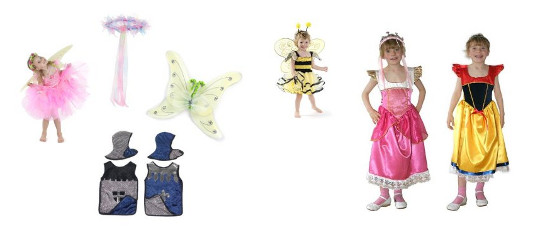 Fancy dress is a major source of entertainment around our house, and while we have the seemingly mandatory plethora of butterfly wings and fairy wings, we've managed to largely avoid the princesses - so far. We have plenty of ballerinas and tutu's though! But we also have a few other things, like a viking hat, kings' crown and fireman's hat.
I realised pretty early on that basically any outfit can go with a hat. Sure, it's great to have a fireman's suit to go with the hat, but really, there is just as much requirement for fairy firemen, didn't you know?
I decided to invest more money in hats than in costumes as I figured the hats would last longer than different sized clothes too, and while I'd happily take on a theatre's dress room for our fancy dress box, it's just not practical. So far we have the Great Pretender's crown*(£13.64) and the Rainbow Halo* (£5.99) and they are great!
The quality of fancy dress clothes from Great Pretender is really good, and can endure even my toddler's play. Of course if you're too harsh with delicate bits, like the Rainbow Halo, I expect it won't last forever, but so far we've been really happy with them.
The crown can go in the washing machine and line dry too, which is always a bonus, but so far any messy hand spills and so on, I've just been able wipe clean with a damp cloth.
Great Pretenders have some of the most beautiful fancy dress butterfly wings I've ever seen and I was a little frustrated at wanting to buy more when we really don't need them, but they are gorgeous.
As far as value for money goes, with the fancy dress costumes you'll find many of them are reversible, so you can have two outfits out of one - for example a knight and a dragon.
When I was browsing Amazon* for the Great Pretender's range recently I saw many of their items on sale, some for up to half price, so it's well worth checking there before buying anywhere else. If you want to see the whole range, you can see their catalogue online, although if you have a weak spot for fancy dress, now might be a good time to hide your credit card.  I don't think these are overly expensive for what you get, but if you buy one of each, it'll soon add up!
If you're looking for fancy dress that will last well beyond the £1 tat, this is a great way to go, and if you keep an eye out on Amazon, you might just snag a great bargain.