BigJigs Flower Tea Set Review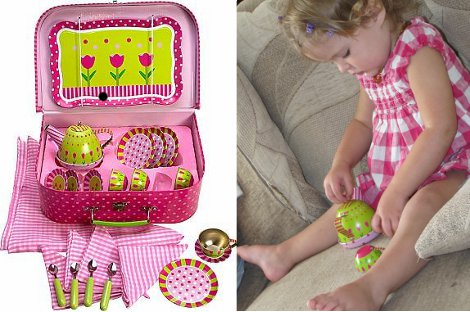 I have a new love in my life – it's pretty much anything from Wooden Toyshop.co.uk – and today my passions fall on this BigJigs Pink Flower Tea Set. A few weeks ago I told you about the 10% off offer they had on food toys (which seems to still be active) and we ordered a few items from them.
When the BigJigs Flower Tea Set arrived, I opened the box and my little girl's face lit up. The box it comes in is pretty sturdy and has become pretty much a handbag for her play food, which she carries around everywhere.
As we unpacked the teapot with its cute little lid, four teacups, saucers and spoons she was full of 'ooohs' and 'aaahs' – it was really sweet, actually.  There are also four plates, a picnic blanket or tablecloth and napkins, as well as a cloth with shaped storage for the spoons.
In the lid of the box we found a serving tray decorated in the same style as the rest of the set.
Now, while it says for 3+ on the box, my 20-month old absolutely loves it. She is quite rough with it, and sometimes will throw things across the room, but so far we've not had any chips off the paint or even dents to the crockery itself. Despite the name of the shop, this tea set is made out of some kind of steel, and is really very hardy.  I saw some of the Amazon reviews about it falling apart and so on, but we've certainly not had that problem.
Now we really just need a nice little play kitchen to go with it, but in the meantime, Daddy and I have drunk our fill of imaginary tea, and Kyra hasn't yet tired of playing with her teapot.
The 10% off offer is still active, and is applicable to this set, making it £11.66 excluding postage (which is £2.95) which makes it £14.61, which still makes it cheaper than most other retailers.