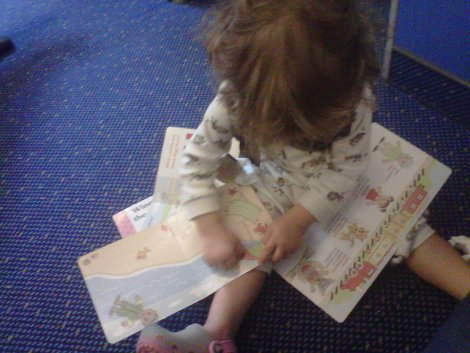 I reviewed the Little Jet Setters grab and go set a few months ago, and when I found out last month that we were travelling to South Africa, with a 12 hour stopover in Amsterdam, and then doing a five-country tour by car with an almost 2-year old, I knew that it was time to call in reinforcements, so I stocked up on a whole range of Little Jet Setters stock to keep us sane on our many hours of travel.
My hand luggage stuffed with a Beach Sticker Book, two 'Go To' books and an Acquadoodle Tray Table Cover, my daughter and I set off on our adventure.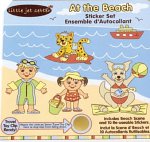 First out on the plane, was the Beach Sticker Book. Basically, this is a two-page 'book' or play board, which opens up to reveal a glossy kind of paper with a beach scene printed on it (you can see what I mean in the image with my daughter above). It comes with reusable stickers, featuring the Little Jet Setters cast – a girl, boy, leopard and kangaroo – which you'll find on all the range.
The great thing about this is that the stickers can be stuck on and pulled off again and again, and can in fact also be used in the 'Go To' story books.
There's no age recommendation on the website for this set, but I did find that with a not-yet-two-year-old who liked to stick them to the carpet, the chair, the wall, herself and our in-flight blankets, they lost their stickiness towards the end of the flight, but they were still useable, if looking a little worn. For an older child who knows not to do that, I think it's a simply superb set, but I must admit, for a younger child the magnetic set is much more suitable.  Even so, we definitely had hours of entertainment out of the set and at £2.99 per set, it can't really be faulted.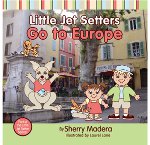 The 'Go To' books come in two titles at the moment: Little Jet Setters Go To Europe and Little Jet Setters Go To America. These travel board books have a mix of real pictures, for example of the Eiffel Tower, with cartoon drawings of the Little Jet Setters characters.  The pages are of a glossy finish, so that the reusable stickers stick on and come off them too. My daughter loved finding the matching characters, for example the girl, and then sticking her sticker over her, or the Kangaroo and sticking the sticker over him.
For reading together and keeping the child entertained with a bit of parental help there are questions in the books, which with an older child would also be useful for instigating conversation about the destinations.  Questions asked are, for example, what a specific character is eating (a hot dog in the New York picture) or where is Lucas the Cheetah (up the Eiffel Tower)?
Also, the actual landmarks are useful for identifying and recognising things, such as the White House in Washington, or the Grand Canyon.
I'd love to see the range extended to include other destinations, such as Africa or the Eastern countries, or even Australia and at £4.99 these provide excellent entertainment, especially if you have the stickers too.  The other fantastic thing about them is that even though they're thin little books with only a few pages in them, they are exciting enough to come back  to time and again. We're three weeks into our driving tour and I'll put them away for two or three days, then bring them out again and they're received and examined as new toys.
Each of these items so far also has a hole in the front to fit the Travel Toy Clip, meaning you don't have to bend down every five minutes to pick up whatever's fallen on the ground.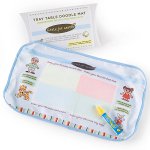 The final item we brought along with us was the Acquadoodle Tray Table Cover. This is a simply genius product.  Intended for the airline or train tray tables that you lower from the seat in front of you, these didn't fit the tray you get in the 'baby row' on a plane, especially not if your toddler is on your lap, but they don't need to be attached to be used, and we use it all the time in the car or even when we're staying somewhere overnight to.
There are four doodle areas on the mat, and it comes with a water pen. The definite bonus of this is that it's mess free and there's only one pen.  As soon as it dries you can start drawign again, and the whole thing folds up into a really small package when you're done.
The mat is a great size but only a part of it is a doodle area, which is unfortunate as we fill it with flowers, bees an hearts pretty quickly, and then have to wait for it to dry, but still it is fantastic value for money (at £12.99) when you see how much entertainment comes from it day after day.
I am so pleased we stocked up on these items before we left, because for under £30 I have managed to entertain my little one at intervals for over three weeks and for our Christmas travel I'll definitely be topping up our collection.